This question has been stuck in my head for a while for now. People travel for different reasons but here I am questioning what it is that gets you to go somewhere.
I have been travelling ever since I was a little child and as an aduItthere have been some pretty interesting things that have led me to pick where I go off exploring! Some are easy to explain and some aren't. Here's looking back at what has made me get my bags packing and out the door!
An image on a magazine cover
I am a travel magazine buff and can't seem to get enough of them. I dragged my family and my brother-in-law's family all the way to Borneo because of an image of a stone stack that was on the cover of a Lonely Planet issue. That's the power of an image – it can get you thinking and take you to places far away. Words whisk you off to distant lands but images are a tad more powerful I think because they stay with you.
Bako National Park in Sarawak, Malaysian Borneo looks like a land where sic fi movies are filmed. Its stark, beautiful and simply stunning.
Family

Having family in different parts of the world can be a hidden blessing. My brother-in-law was posted in South Korea and that's what took us there. To let you in on a secret (and one that I am not proud of) – I wasn't too keen to visit South Korea. It wasn't that I didn't want to go there but there were so many places that I wanted to go to before, and I couldn't have been more wrong! South Korea is a well kept secret waiting to be discovered. We went there in the peak of winter and we were frozen down to our bones, but Korea was like a beautiful fairytale waiting to play out.
An artefact
My sister spent a few weeks with the Kumbhars in Khavda village in Kutch as part of her design project as a student of the National Institute of Design, Ahmedabad. It was then that my parents visited her and travelled around Kutch exploring its many art forms and rich crafts. They came back with the most amazing stories of the warm hospitality of Kutchi people and exquisite hand painted terra-cotta pieces. There was something about the black and white lines and dots and the designs that stuck with me ever since. The vastness and starkness of the Rann is what draws many to Kutch, but for me it was the craft, the local people and their stories that took me there.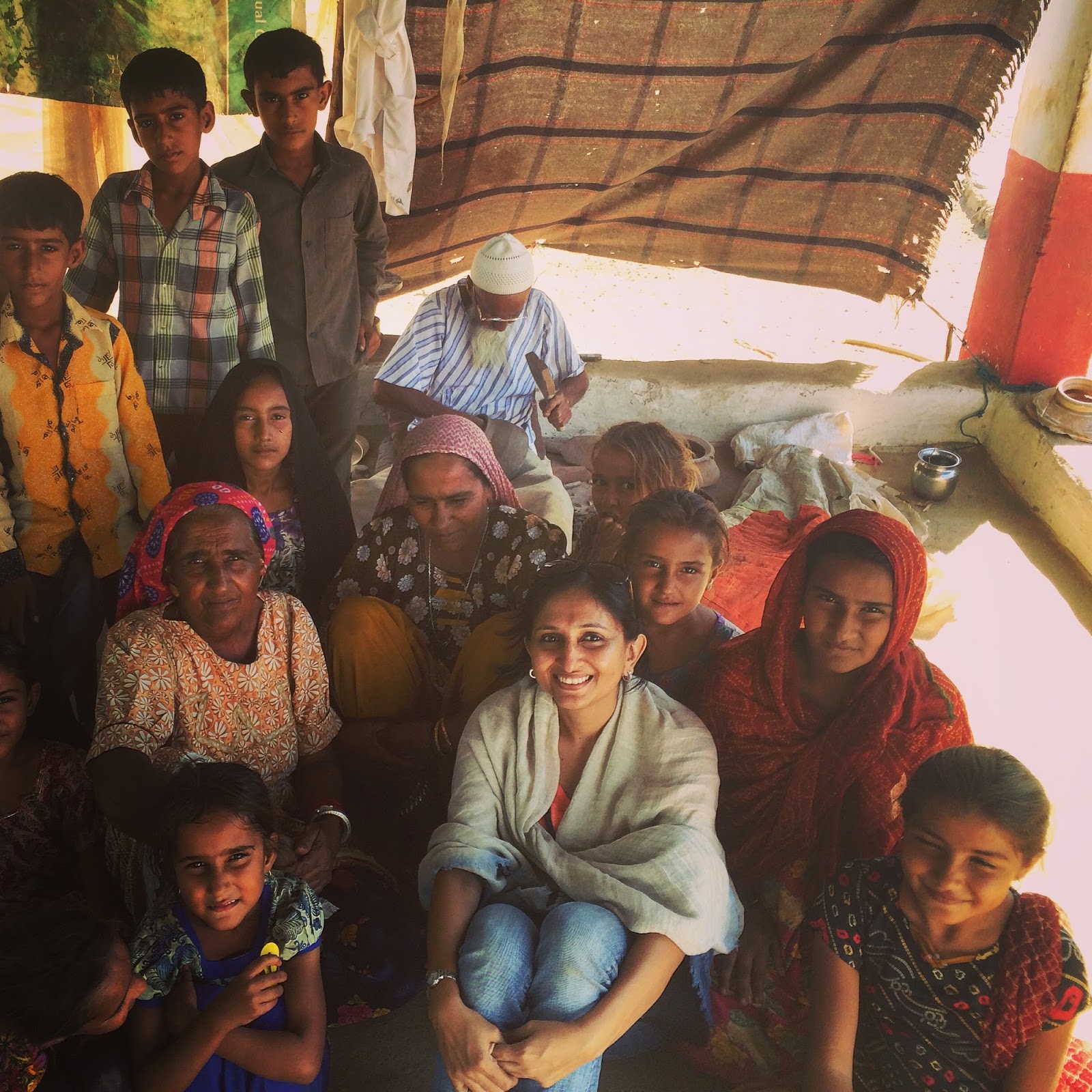 15 years after my sister stayed with the Kumbhars I went back and found Saraben and her family. They were delighted to see me and I was equally thrilled to have found them!
Read: No Place Like Kutch for Craft Aficionados
Read: Rogan Art From Kutch – A Gift For The Obamas
Read: The Wadhas Of Nirona, Kutch
A conversation
My backpacking trip to Morocco with a friend was purely a result of a conversation as we were working late one night. She loves travelling and often takes off on her own. I had never backpacked till then and the idea was just so tempting that I told her that wherever she was going to next I am going to go with her. The television show we were working on ended for me as I moved cities and she had a break before the next season would begin, so it was a good time for us to take off on a trip. She chose Morocco and I just went along. We backpacked for 12 days across the stunning North African country without a fixed itinerary or booking except for the first night of our trip. If I could, I would love to do this again – taking off on a whim is such a luxury especially now that I am a mother and have to plan everyday that I need to stay away from my daughter.
What is it that gets you to pick a place or destination? Do you have some interesting reasons why you went where you did?