Sri Lanka the little pear dropped island nation in the Indian Ocean is right after my heart. Beautiful, a rich cultural fabric and with some of the friendliest people I have ever come across – I love visiting Sri Lanka! Another big plus is the country's fabulous food! Full of flavor, texture and made from some of the finest ingredients grown right in the country, Sri Lankan cuisine is absolutely delicious.
My husband has a new role in the company that he works in, and travels almost every week to a different country. This whole last month my daughter and I have been treated to all kinds of goodies that he brings back.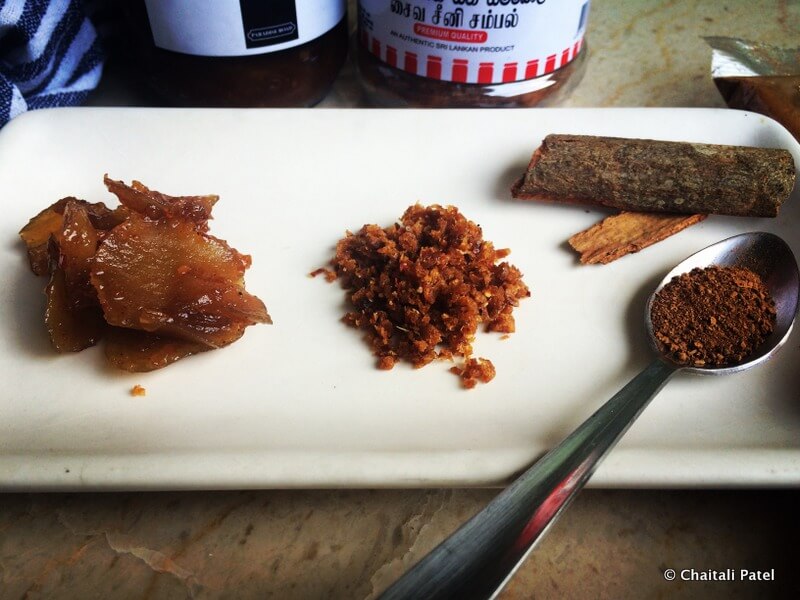 From Sri Lanka he brought powdered cinnamon – a spice that grows abundantly in the country, black mango pickle, vegetarian seeni sambol and Jaffna curry powder.
There are a lot of similarities between the ingredients used in the food cooked across Sri Lanka and the Southern states in India, but Sri Lanka's unique geographical position and history has influenced its food very distinctly.
Rice and curry the ubiquitous Sri Lankan dish as the name suggests consists of rice eaten with curry that could be made of chicken, fish, mutton or some other protein, dhal (lentil) and a variety of vegetable dishes. Pickles and sambols are also an integral part of Sri Lankan food. Made with a mortar and pestle, a smabol is roughly a condiment of ground onions, spices, dried Maldive fish or coconut. There are many kinds of sambol and a couple or all of these ingredients may go into making one. Seeni sambol is made of caramelized onions, tamarind, cinnamon, cardamom, sugar, salt and oil. Dried Maldive fish is what gives sambol their distinctive flavour, but we got a bottle of vegetarian seeni sambol which had no fish in it. Sambols are best eaten with hoppers, a Sri Lankan dish similar to appams and idiyapams,  or even curry and rice. Mix a little sambol into anything to add a bit of spice to a dish.
Sri Lankan pickles have a distinctive sweet note that contrasts nicely against the spiciness of chillies.
Jaffna curry powder – is a ready spice mix that my husband's colleague said he had to bring back. I have been trying to dig up more about this powder that gets its name from the Northern tip of Sri Lanka which until a few years back was undergoing a major civil war; but am yet to come up with something interesting. Do you know what its used for or what makes it special?
***
Eager to find out more about Sri Lankan cuisine, read this: An Introduction to Sri Lankan Cuisine as featured on Serious Eats
***