So, I went to Flanders with one nose and returned with two dozen.
This part of Belgium, the northern Dutch-speaking region, is famous for its chocolates. In Bruges, every shop window called out to me and if that was not enough, there was a chocolate museum. And for those on a diet (not me, sadly) there was even chocolate to snort, at "shockolatier" Dominique Persoone's fabulous shop, The Chocolate Line, It would be fitting to call the shop an ode to chocolate, given the dazzling range of flavours, from chilli to Coke. And then there were the waffles in Brussels…
As you can imagine, I was on a sugar-induced high through my time in Flanders, culminating in the noses of Ghent. These rode neuzen (red noses) are everywhere on the streets of Ghent, a stunningly pretty University town by the banks of the Leie (or Lys in French).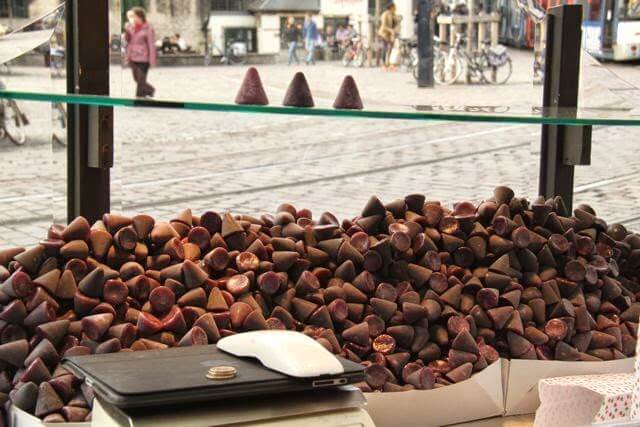 The neuzen are purple, conical (at a stretch, nose-shaped) sweets with a soft outer crust and fruit jelly core. I first came across these raspberry noses – cuberdons – as I walked aimlessly on the town's cobblestone lanes. A local vendor had them heaped on his cart and generously offered a taste. And I was hooked.I bought a few to eat over the next couple of days (cuberdons are best eaten when they are somewhat fresh and the jelly has not hardened). And I got some back home for the husband and for friends as gifts. Really, why would I get chocolates when I could get purple noses instead?
***
There are writers and there are fantastic writers and for me Charukesi Ramadurai falls into the latter category. A freelance writer, journalist and author from India, Charukesi has had her writings published in a variety of Indian and International media. She writes on travel, food, books, arts and culture, gender and development issues and the joys of social media and networking. Read about her travels on her blog here.
If you would like to send in a food souvenir post from one of your travels, please write to me at info@maps-stamps-memories.com.
***
Read about Stroopwafels from The Netherlands here.
Read about Kahwa from Kashmir here.