Kayani Bakery's Shrewsbury biscuits feature on almost every traveler's must get hold off list when they visit Pune, but another Maharashtrian delicacy also deserves to feature besides it. Crispy, crunchy, spicy, sweet, tangy – bakarwadi is an all time Pune chai time (tea time) favourite.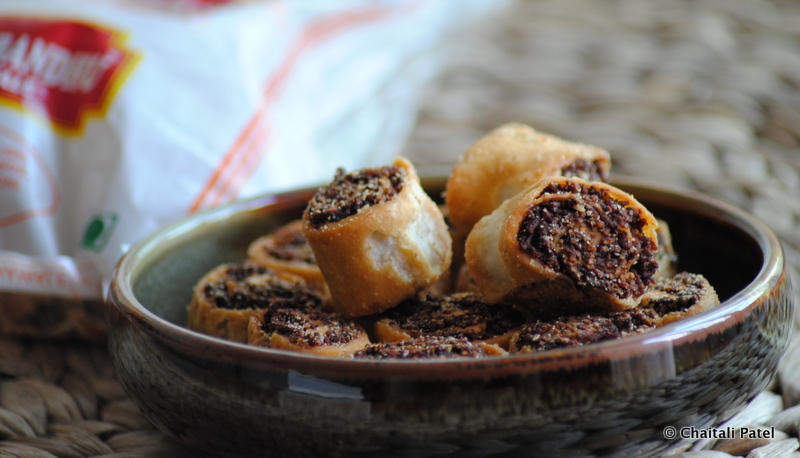 Though I had tried the bakarwadi a few times before, it was not until friend's from Pune brought some for us from the iconic Chitale Bandhu sweet shop, that I turned into a bakarwadi fan. Made of wheat flour and deep fried, the bakawadi resembles pin wheels cookies and between each fold is a mixture of sev (savory snack made from chick pea flour), grated coconut and a variety of spices that really give it life.
Chitale Bandhu has many outlets across Pune and make fresh batches of bakarwadi through the day. In fact theirbakarwadi is so popular, that they have it packed and ready for you to straight pick up and bill. We bought 250 gms ofbakarwadi for Rs.250.
Bakarwadi is stored in an airtight container can last several weeks. Its a dry snack which you can carry in your suitcase without worrying about possible spillage.
The ones I brought back last weekend are disappearing fast but you know where that's going!
***
Read: Food Souvenir – Stroopwafels from the Netherlands
Read: Food Souvenir – Kahwa, The Flavour of Kashmir
Read: Food Souvenir – Red Noses of Ghent
If you would like to send in a food souvenir post from one of your travels, please write to me at info@maps-stamps-memories.com.