As kids we often travelled by train, as flying was prohibitively expensive. Train journeys always meant tedious planning as tickets had to be bought well in advance if you wanted a confirmed ticket. As the date of the journey drew closer, dinner time discussions would revolve around the status of the ticket – if the ticket was RAC (reservation against cancellation) or WL (wait listed), which it most likely was, my dad would keep checking the movement till it got confirmed.
A stickler for time, my dad would ensure we got to the station even before the train had arrived on the platform much to our irritation. As these trips were mostly for longer periods of time, we would have large suitcases and many smaller bags, one being entirely filled with food. It was not that you don't get food on trains, in fact most trains have their own pantries and almost all stations have stalls selling food, but carrying our own food was mandatory, akin to carrying the train ticket!
Mom would have diligently packed food and snacks for the entire journey. I was always amazed at the attention she paid to the little details – like making sure to pack disposable plates, spoons and tissues. If it was paratha (flatbread) and subzi (vegetable) that we were eating, she would make sure to pack some pickle in a bottle that would be sealed with perfection, so that not a drop would dare leak.
My sisters and I would pack the books we planned to read over the journey that stretched over several hours and sometimes whole days. Card games were another family favorite as was playing antakshari (a game that involves groups singing songs) and dumb charades. We always began such journeys surrounded by strangers, who ended up being friends as the train pulled into the station where we had to get off. Not friends who we would necessarily keep in touch with, but those that we remembered with fondness for months to come. Stories, songs, dreams and food (and lots of it) would be shared freely.
As we traversed through the length and breadth of India, along with the scenery food would gradually but surely change. Pulling into major stations was a much looked forward to affair. At these big stops, the train always stopped for longer duration, which meant you could get off and buy books and often local delicacies being sold on the platform. At times you needn't even get off because as soon as the train began pulling into the station vendors quick like the wind, would jump in and move through the narrow passageways shouting out what it is that they were selling in their guttural voices.
Hours of laughing, talking and singing would be interspersed with moments when everyone was busy doing their own thing – sleeping, reading, praying and often (I suspect) reflecting on life. Looking out the train window has a therapeutic effect on me. Watching the landscape change from vast open farmlands to scrub forests to lush forests and rolling hills; gurgling streams that often gave way to gushing rivers; watching the faces of people change as do their clothes and houses; the world seems to pass by you in a flash. I truly believe train travel is one of the best ways to teach geography to children.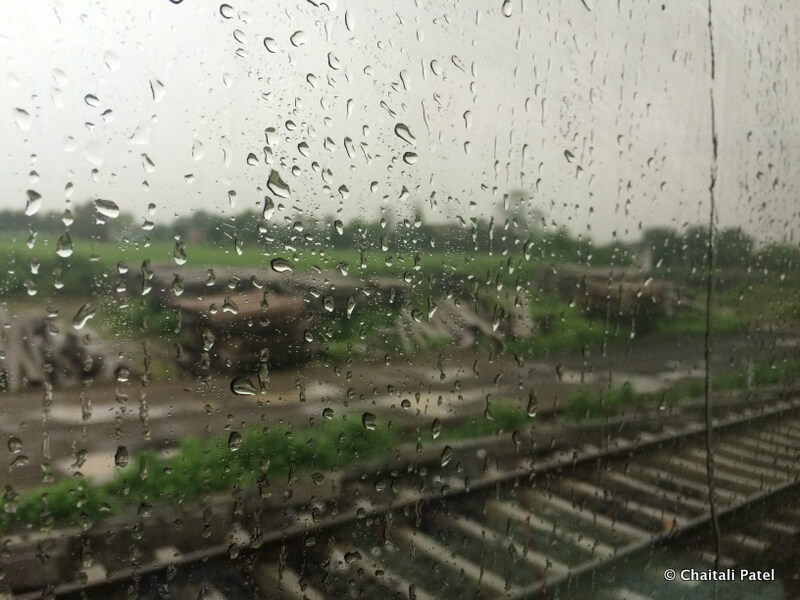 Today travelling by trains is a one off occurrence and I look forward to it whenever I get the chance. It was last weekend on a trip to Nanded, that I got on the train for a journey that stretched over 12 hours. I met some incredible people, stared out the window to my heart's content, and was offered food and so much of it, that I had to put my hand on my stomach and beg to be spared.
To experience India, I can't think of a better way but to spend a sizable number of hours on the country's vast train network at least once. Rest assured your senses will be assaulted as will your personal space but that's the quintessential Indian experience!
Have you ever travelled by train in India? What was your experience like?
***
I had intended to write a guide on travelling on trains and then discovered this: Getting Around India By Train. When something is so well done, there's no point in reinventing it!

This is the site I book all my train tickets on: IRCTC
Getting a login ID and password to use the site is like climbing the Himalayas, but there's no getting around it!