India is a country that saturates your senses and the best way to see it if you are up for an adventure, is to take a train ride. In a city like Mumbai, take the local train or the train that runs through the city, to get a flavor, but I warn you that its not for the faint-hearted. In other parts of India, take short train journeys if not longer ones. I have travelled the length and breadth of the country by train as a child, even taking trips that lasted over 48 hours. At times it was exasperating, mind numbing, and also highly entertaining, but ask me if I would change that and I don't think I will. Watching the landscape change and going over mighty rivers is the highlight of these journeys for me.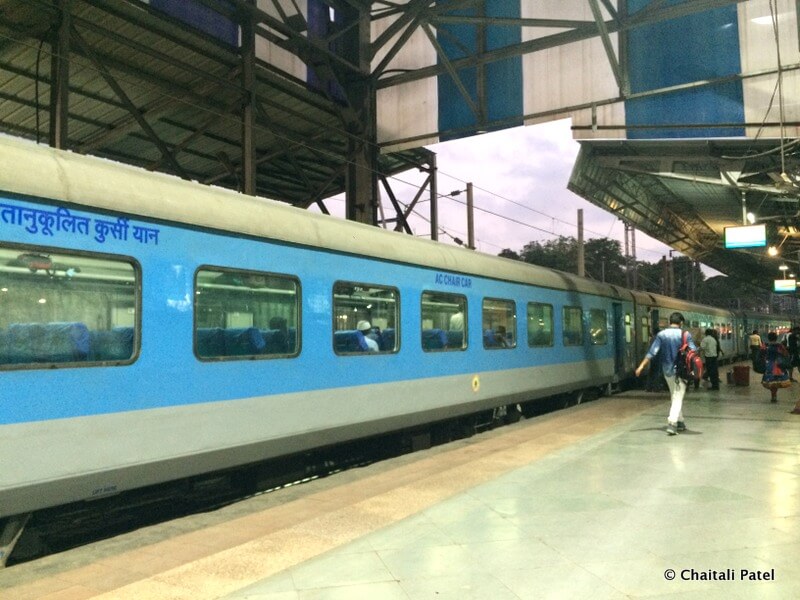 From when Anika was little I have been taking her on trains. We have done the journey from Mumbai-Ahmedabad-Mumbai umpteen number of times, taken the Shatabdi Express from Bangalore to Mysore, the Shatabdi from Delhi to Chandigargh, the train from Mumbai to Goa, and the train from Jodhpur to Mumbai. I have always taken small precautions to make the journey more comfortable for both of us. So here are my tips to help you survive the journey with little children!
Booking tickets & seat allotment
I book all my train tickets on the IRCTC website. All you have to do is create a login and password to use the site. But creating a login id took me forever. So attempt this with a whole load of patience.
Railway rules have changed over the years and now children above 5 need a full ticket, which also means they get allotted a separate seat or berth. If your child is under 5 then you still need to furnish their details while booking a ticket but they travel free. That also means that they don't get a separate seat or berth of their own. If you would like to pay and book a separate seat, that shouldn't be a problem.
While you are given the option of choosing your seat – window, aisle (chair car bogie), lower, upper or middle (bogie with berths), sometimes the system does not allot it to you. Once you get on the train you can request the ticket collector (known as TC) or fellow passengers and exchange seats.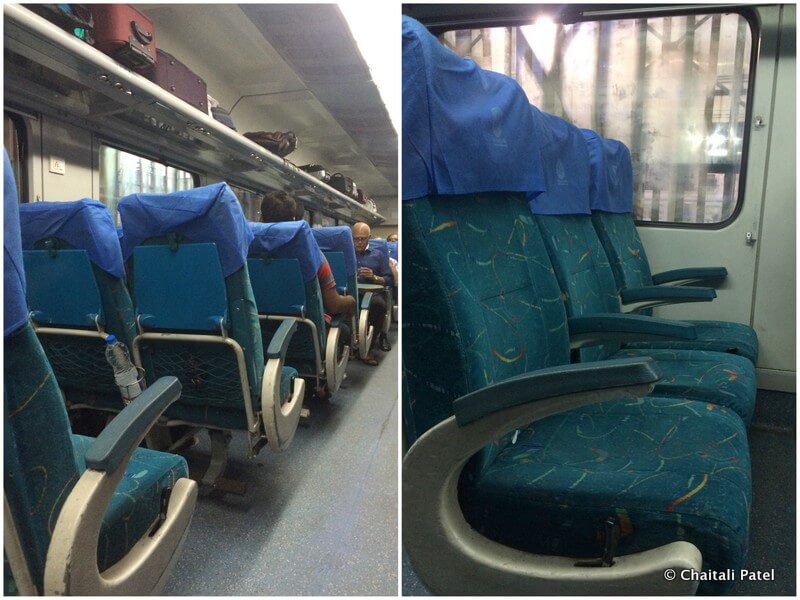 As soon as you book the ticket you get an SMS on your registered mobile number. That works as a ticket. You don't need a printout, but remember to carry an ID proof. Usually every passenger needs to have a valid ID proof on them including children.
Getting to the station & baggage
Its always better to get to the station well ahead of time as you might have to walk a long distance to get your bogie. Look for your bogie number and once you get in locate your seat.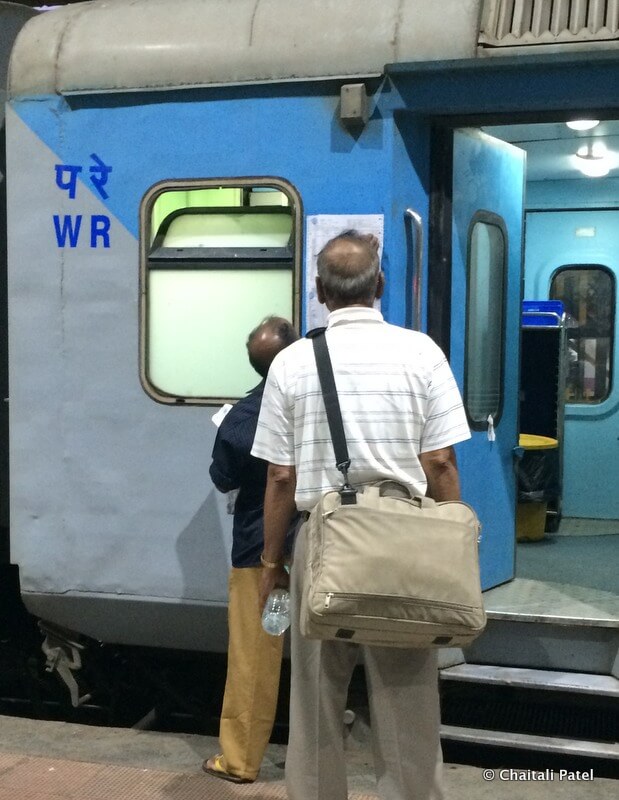 One of the benefits of travelling by train is that there's no restriction on baggage. But if you do have large suitcases you might want to get there early to be able to place them under the seat (trains with berths). If you are travelling by chair car, place your baggage on the overhead shelves. Whether under the seats or overhead, its best to keep whatever you may need during the journey easily accessible and in a bag that you have handy. I make sure I have snacks, water, books, toys and a blanket at arm's reach.
Toilets
This is where the challenge truly arises. Most bogies have a western style toilet and an Indian style toilet. While toilets do have running water they can be messy and very smelly. It might be a good idea to train your child to sit on their haunches which will enable them to use Indian style toilets. With western style toilets its best not to sit on the toilet seat to avoid risk of infections. It's advisable to carry your own toilet paper and hand sanitiser. If your child is still using a diaper, carry disposable bags to dispose the diapers properly.
Food
If you have a weak tummy carry food on you for your journey. If you would however like to experience train food then choose dishes that are hot and freshly cooked. On trains like the Shatabdi and Rajdhani, food is served at regular intervals. Vegetarian and non vegetarian options are available and you further may have options within each category. Ask the person serving you what the options are. You don't have to take everything that is served to you. Now that Anika is a full ticket she gets her own meal, but I choose what I want thereby not wasting the rest. Children under 5 travel free and they are expected to eat from the food that is served to the adults, but you can ask for extra rice, yoghurt, rotis, biscuits, bread, etc. If you are travelling on an air conditioned bogie you can carry fruits that will last the journey.
Cleanliness
Though significant steps have been made to clean up the railways, cleanliness has always be an issue. The stations are far cleaner than before but I would still never use the toilet on the station. Cleanliness on trains vary and its best to be prepared for every situation. On overnight trains, passengers (air conditioned bogies) are given a bed roll (2 sheets, one woolen blanket, an air pillow with a cover and a small hand towel). While these are washed after every use, you may want to carry your own sheet to be safe. Carrying your own hand towel on a long journey is always a good idea. If you plan on sharing a berth with your child carry an extra sheet, as the nights can get very cold. At times, with just one pillow for two of us, I always struggle without a pillow of my own. So you might want to carry one or ask the attendant for one or think of something else that can be used as a pillow. Make sure to carry your child's favorite blanket, pillow or other object that can serve to comfort them during the journey at all times.
It's always useful to carry hand sanitizer, a toilet roll to clean up any spills and wipes on journeys. Also carrying bags to dispose off your garbage can be very useful. Collect wrappers, empty packets, cups and dispose them off together, instead of making trips to the dustbin placed near the entrance of the bogie often.
It isn't uncommon to find cockroaches and small rats scurrying under seats on trains. To avoid having a hysterical child you might want to warn them beforehand and make a game out of it. If your child has allergies carry the required medicines.
Safety
The best part of travelling on trains is the camaraderie that you enjoy with your fellow passengers. Travel with children and be rest assured that people around you will be all the more friendly. That said always exercise caution with what you share about your journey. You may want to use a chain lock that fastens your suitcase to the seat. This ensures that no one can whisk it away while you sleep. If I am sharing a berth with Anika, I ensure she sleeps towards the window and I sleep on the other side (this is however not valid if you have a side lower seat).
Entertainment
Looking out the window and chatting with other passengers are the biggest source of entertainment on train journeys. But I always make it a point to carry small toys, books and a notepad for Anika to scribble in. Word games are fun to play too and are a great way to pass time. Railways don't have screens so there isn't a concept of in-flight entertainment like what you get on flights. So if your child watches the ipad then carry it fully charged. Air conditioned bogies have charging points in case you need to charge any of your electronic devices.
Facilities
On my last train journey a few days ago, I saw notices put up near the entrance of the bogie that listed out numbers that you can send SMSes too, if you would like your coach or bathroom cleaned at the next station.
Train rides are an adventure, and with a positive outlook they can be fun. Use these tips to make sure the journey is comfortable for both your child and you.
***
Read: Why You Should Travel By Train In India
For a detailed note on the kind of trains, ticket booking and seats, read this article published on thew Lonely Planet website here.