Planning a family trip is always tricky! There are many opinions and varied expectations, and the person who plans the trip has to make sure that everyone is (somewhat) happy. That onus invariably falls on me and I love my task, but it does have its challenges. 
On our trip to Udaipur, Rajasthan, last week there were 3 generations of my family all traveling together. Udaipur was our top pick as its easily accessible from Ahmedabad by road. It takes roughly 4 hours to get there, the roads are great and the scenery is nice and green, as the monsoons sweeps her way through much of the Indian subcontinent. 
Contrary to popular perception, Udaipur enjoys good weather this time of the year, with temperatures ranging from 25 to 32 degrees centigrade, with occasional monsoon showers. There's a certain charm about going to a destination apart from the peak season or just at the start of it. The place and her people  welcome you with open arms, as they are slowly gearing up for the busy days that lie ahead of them. 
Erstwhile capital of the Mewar Dynasty, Udaipur is a visual delight! The ochre City Palace at the edge of Lake Pichola will take your breadth away regardless of how many photographs you have seen of it. Across the City Palace, the white marble Lake Palace appears to be floating on the placid waters of Lake Pichola. The city and her many sites deserves a whole post so I will leave that for later and just focus on where we stayed for now.
While the city has a number of hotels, resorts and havelis (traditional houses, typically built for large families) finding one suitable to our requirements was my main task. We chose the Trident Udaipur and it was a great pick for a family vacation and here's why!
Great location: Spread over 43 acres on the banks of Lake Pichola, the hotel is a short 15 minute drive away from the old city that houses many of the famous sites of Udaipur. Once you are done exploring the city, return to the hotel to unwind in its immaculately maintained gardens and facilities.
Rooms to suit all tastes: Choose from 134 rooms and 4 suites to find one to your liking and budget. Packed with all modern comforts, the rooms have subtle touches that reflect the rich tradition of art and design found in Rajasthan. Hand painted vibrant floral borders run above the bed and frame walls in the bathroom, while the floors and bathroom walls are made of green marble, a stone found in abundance in the region. 
We stayed in the Deluxe Garden Room that looked out onto a sprawling garden from a beautiful window shaped like a Jharoka or the traditional Rajasthani window. Every now and then we would see peahens and peacocks run past, truly giving us a feel of living like royalty in our own little palace!
The hotel allows 2 children below the age of 8 to stay in the parent's room at no additional charge, however only one child bed is provided free of cost. My sister and I have one child each, so this worked out well for us.
Food fit for royalty: The hotel has 2 restaurants, but only one was operational while we were there, but we couldn't have asked for more! Aravalli, the restaurant where we had breakfast and lunch, serves Indian and international cuisine, but the highlight is their traditional Rajasthani dishes. Much to our surprise some of the Rajasthani dishes that we had here were better than what we had in smaller restaurants around the city, who claimed to specialize in Rajasthani food.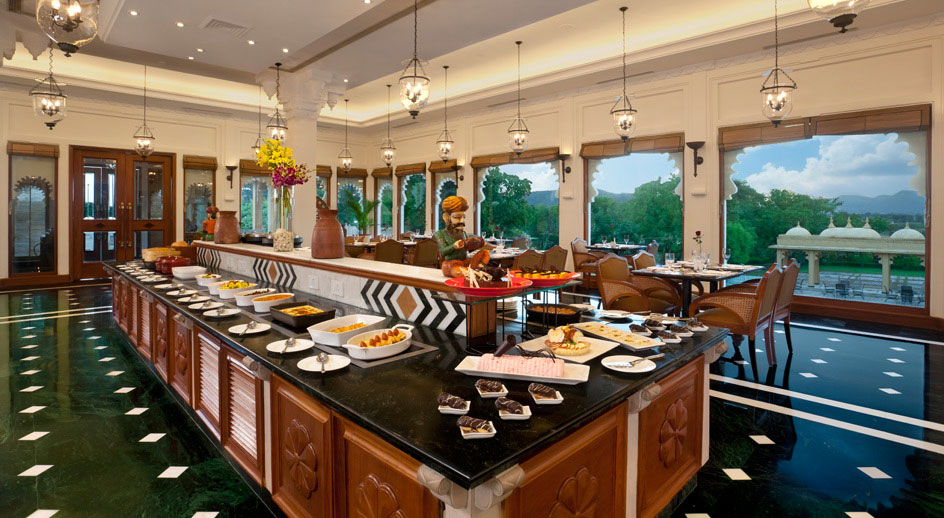 Breakfast was an elaborate spread with a number of Indian options that varied everyday. At times during lunch there is a buffet that is served, which has a good selection of Indian food with a couple of international dishes. Children below the age of 6 are not charged for food, which was a great deal!
Abundant recreational facilities: The swimming pool at the Trident Udaipur has a fairytale like setting, surrounded by sprawling gardens leading up to Lake Pichola and flanked by the purple hued Aravalli mountain range in the distance.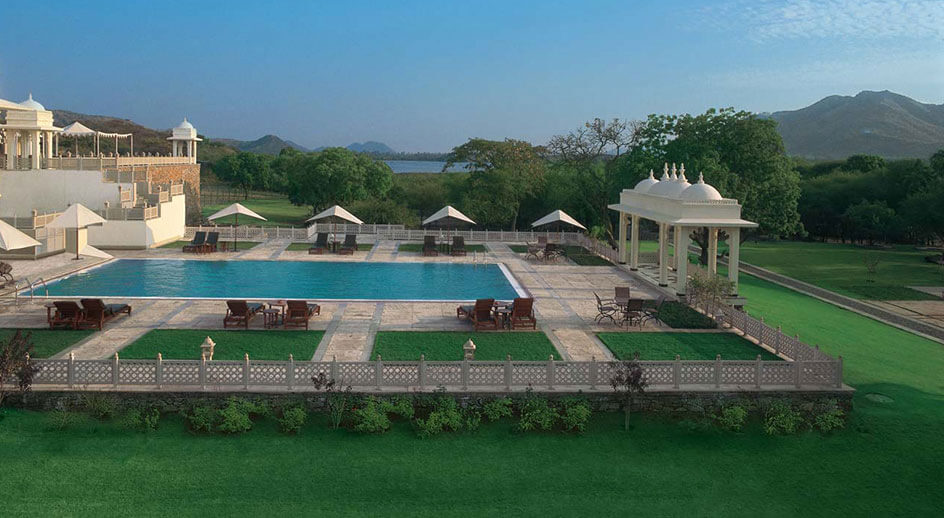 By the pool is the hotel's gym, which is small but well equipped and sufficient to get some exercise while on holiday. I went for a run one day at the gym, but if you like running outdoors, the hotel's large grounds are the perfect spot to do so.
The well maintained gardens of the hotel which had a good mix of ornamental and indigenous plants were a definite highlight of our stay. The grounds are so large that we went on walks in different directions, sometimes chasing peacocks and at other times hoping to get a better view of the lake. We spotted about 15 different kinds of birds within the property and it was a great place to get the children interested in bird watching! Chirping birds and loud peacock calls are the only sounds that you will hear inside the property, which was such a pleasurable experience .
For those looking for some pampering, the hotel runs a spa that offers Ayurvedic and Western massages along with a variety of beauty treatments. 
Fantastic kid's club: While on holiday with kids, activities that are available for them, is one of the biggest points of consideration when we are choosing our hotel. On this trip apart from sightseeing, we wanted to relax and spend time as a family, which meant that we spent a lot of time at the hotel, and having a good kid's club was a boon. During the hot afternoons rather than having the kids holed up in the room, we took them to the kid's club located close to the swimming pool in the hotel. 
Housed in an air conditioned tent, the kid's club is open to only kids and parents are not allowed. There are 2 trained care takers who watch over the kids while they indulge in a variety of fun activities including board games, toys, puzzles and more. Right outside the tent is a patch of sand with a small play area. 
On a daily basis the kid's club does a variety of activities for children which are all free of charge, so depending on your schedule you can choose the ones you would like your child to participate in.
Magical Bada Mahal: Bada Mahal, a 150 year old wildlife conservatory located within the premises of the hotel is a hidden gem. Now home to spotted deer, boars and peacocks, in its day of yore, the Bada Mahal was used as a resting place for Maharana Fateh Singh during his hunting expeditions. A plaque today says that the Maharana watched tigers and boars fight from here. 
The walk to Bada Mahal is a treat in itself, as you amble along a path surrounded by lush greenery and numerous birds . We weren't lucky to spot any deer or boar, but saw many peacocks, one even opening its gorgeous tail much to our delight . 
Fabulous service: When you stay in a luxury hotel, top notch service is a given, and the Trident and her polite and friendly staff did not disappoint in this aspect .  Staff throughout the hotel, even the guards who we bumped into as walked around the grounds were very polite and helpful . 
***
Part of the leading Oberoi Group of Hotels, Trident is a luxury hotel with many properties across India. The Trident Udaipur is situated right besides the Oberoi Udaivilas and both hotels share common grounds . The Oberoi Udaivilas has won numerable awards and has consistently been ranked one of India's finest hotels . 
Visit their website here .