I don't enjoy writing about restaurants unless there's something really that stands out. I visited The Bombay Canteen (TBC) a few days back and never thought about writing about it while I was there stuffing myself with a cheese loaded Bhavnagiri chilli. Later as I was drooling over all the yummy food that I ate, I realized that it really was something exceptional because the restaurant, the food and the people capture the essence of Bombay perfectly.
Located in the crowded Kamala Mills in Lower Parel, the best way to spot it is to look out for a bright red facade with a neon sign proclaiming TBC. Right at the entrance of the restaurant was a board displaying their 'Baarish Ka Menu' (or menu for the monsoons) reminiscent of how movies and shows timings were displayed in the earlier times outside cinemas in the city. Monsoons are an integral part of Bombay as much as Bollywood or the local trains. Commuting becomes even more tough (if that's possible) in the island city and everyone finds solace in endless cups of steaming cutting chai (tea served in small glasses), hot pakodas and bhajiyas.
Step in and exposed brick walls, crumbling plaster, a gorgeous tiled floor, art deco glass panels, Bollywood posters and a variety of interesting knick knacks recreate a Bombay of old times.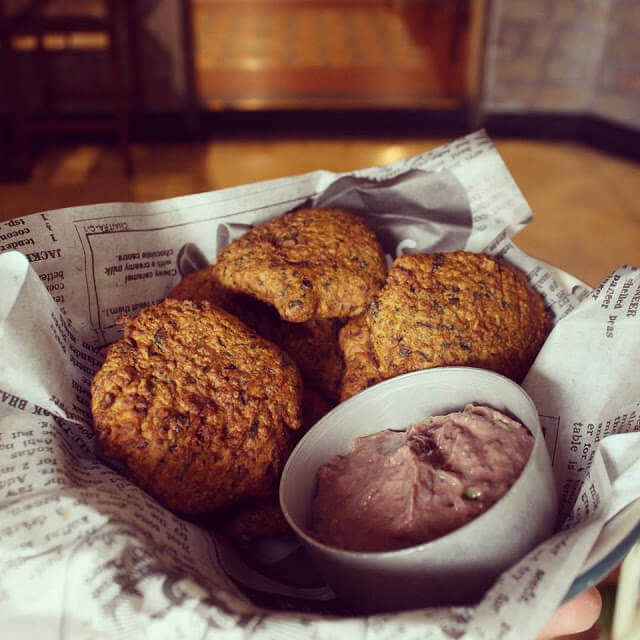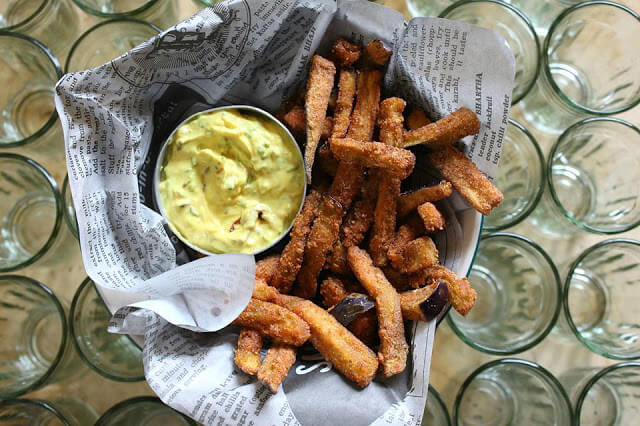 The special Baarish Ka Menu has an assortment of the city classics like bread pakodas, dal vadas and bhajiyas but all served with a twist. While I enjoy trying new cuisine and dishes, I am not one who loves experimenting with food. For me a classic dish needs to be just that. But that's where the TBC pleasantly surprised me. They have taken the classics and turned them around into newer, more fun dishes.
The menu at TBC canteen is split into Chintu (pint sized or tiny), Chota (small), Bada (large) and Patiala (extra large). So while we sat at the bar waiting for a friend to join us, a lady walks up to us holding a tray with leaf bowls holding the famed Chintus – or tiny portions of a snack – cheese straws, banana chips, fried shrimp and pickled vegetables.
The Chotas are starters and the Badas the mains. Theplas, Sindhi curry, dosas and Goan sausage all find their place in the menu.
If they have hit the right note with their food, their drinks are bang on too. Love the addition of unusual elements to create some really interesting cocktails like their Royal Ginfield, which is a combination of Gin, amla juice and jaggery syrup. Ever thought tamarind and whiskey was a plausible combination, well not me, and that's exactly where TBC have managed to add the punch.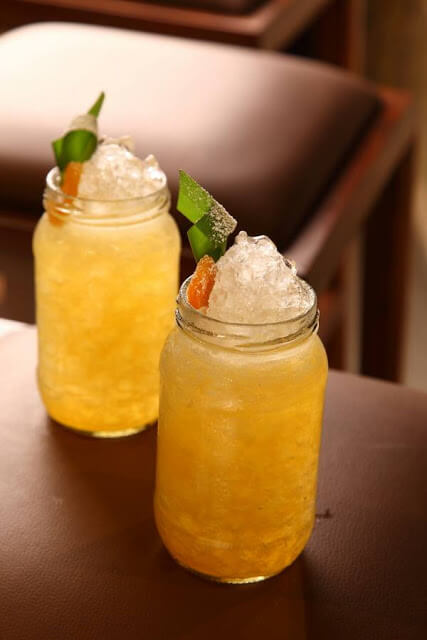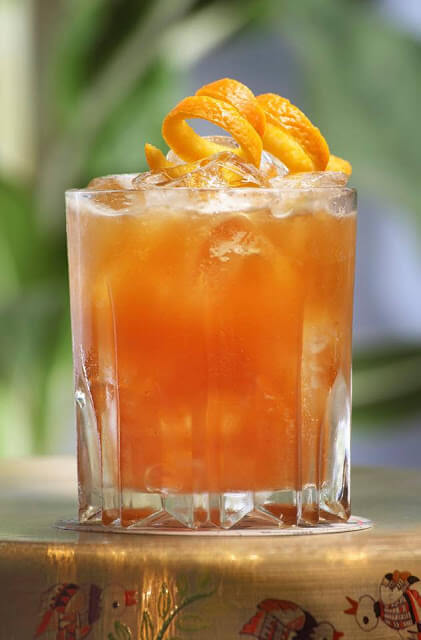 The staff are very friendly and helpful and embody the spirit of the city. From the person who seated us to those who served us everyone was chatty and really chilled out.
If you are visiting Bombay, I would highly recommend a visit to TBC – they do a fantastic job of serving Bombay on a plate.
***
All images have been taken from The Bombay Canteen Facebook page.
***
Views expressed here are my own and I went to the restaurant on a personal visit and not on invitation.