I have lived for the most part of my life in the Southern part of India. And I have always assumed my knowledge of South Indian food (as food from the 4 Southern states namely Tamil Nadu, Karnataka, Kerala and Andhra Pradesh is referred too) is fairly good. But it is when you travel that you open up yourself for surprises. Travel is fascinating because it always reminds you in a very gentle manner that you possibly don't know everything about anything!
On our way from Kabini to Bangalore we were driving through Mysore and our cab driver took us to a vegetarian restaurant called Kamat. A small rather nondescript yellow board marked the entrance to the restaurant. The parking was quite big indicating that possibly a lot of people driving through Mysore made a pit stop here. It was right at lunch time when we walked in and we had to wait for some time to be seated. While we waited we saw a few ladies making rotis (flatbread) and cooking them on an open stove. In Tamil Nadu its not common to find rotis or chapatis as part of a traditional meal. But this was Karnataka and things here were different.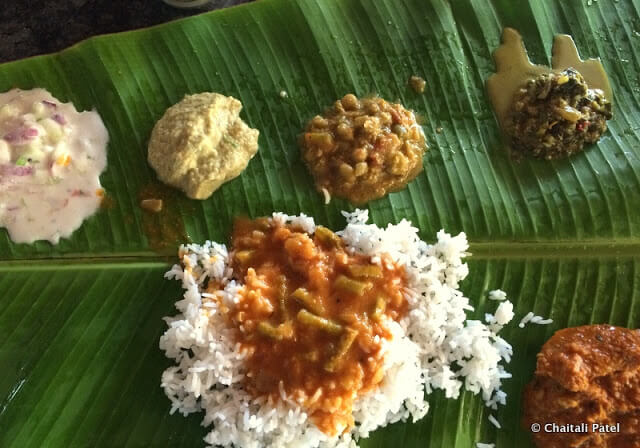 I had my mind set on eating a full meal served on a banana leaf. Eager to eat as much sambar (a lentil preparation cooked with vegetables and spices) as I can, I skipped on the roti and started straight with rice. As soon as the leaf was laid out within no time was I served pachadi (grated or chopped cucumber and onions mixed with yoghurt), a chutney, holige curry (a spicy brinjal preparation, where brinjals are stuffed with ground peanuts and sesame seeds), kaalu (pulses cooked with spices), and lentil curry with greens (dill was the main green used in this dish). Buttermilk, curd (unflavoured yoghurt), pickle and aplam (papad or pappadum) are a integral part of a South Indian meal and are always served.
I went through my meal quickly and tried to catch the attention of the manager to chat about the meal, but lunch times when the restaurant is possibly the busiest is the worst time to do that. All I managed to get out of him was that what I had just had was a typical North Karnataka meal, and what the ladies were making were not ordinary wheat rotis but jowar or jolada roti. Jowar or sorghum is a popular crop grown in this part of India. If the staples of a typical North Karnataka meal are jowar and rice, a South Karnataka meal comprises of ragi and rice. So out of pure ignorance I had missed out on eating the most important part of the meal! Too late though, with my stomach all stuffed I had to leave trying the jolada roti for another time.