Its strange where inspiration to write comes from! Last night the electricity suddenly went away, which is very unusual in Bombay. So we shifted from our room to our daughter's room where there was power. In about half an hour the whole house had no power. After checking if the fuse had blown and seeing that the electricity had gone across the whole building, we opened the window and tried to fall back asleep.
So much activity in the middle of the night almost always drives sleep away. As I lay down listening to the sound of the night that filtered in through the open window, my mind went back to the time when we stayed in a room with absolutely no windows. It was little less than a year back that we had gone to Hideout, an organic farm about a 2 hour drive from Mumbai.
Hemant and Sangeeta Chhabra set up their farm 28 years back hoping to reconnect with their roots, and Hideout is not a resort or an hotel but their house and farm which they have opened up to visitors. You don't stay in the house but rooms that are part of a separate building which is more like an outhouse.
We were staying in a room that was big enough to accommodate 2 families. With our spouses and children fast asleep in the adjoining room, my friend and I lay chatting under a carpet full of insects. With no other intrusions like television, wifi or even phone networks, the setting was perfect to have a good conversation.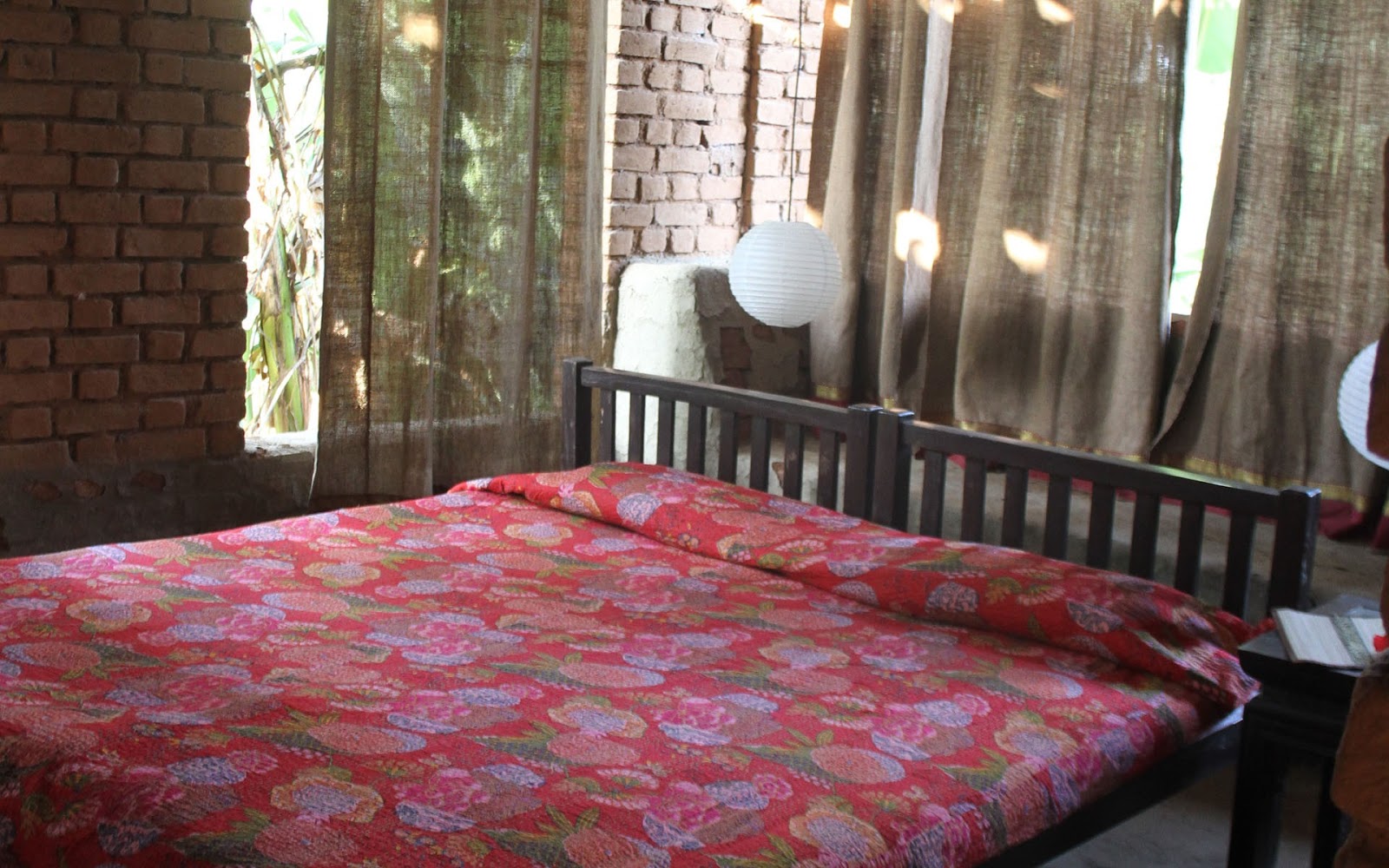 The earthy rooms at Hideout
The room had brick walls and floors plastered with mud (a practice commonly followed in villages across India) and a wooden bed that was completely ensconced with a mosquito net. Right behind the bed were two big windows that looked out at a cluster of banana trees and other foliage. The windows were literally cutouts in the wall with no glass shutters or grill. In the daytime, the brown of the walls along with the white net, and the lush green of the trees outside gave the room gave the room such a rustic feel. In the evening however, the dim light from a single bulb that hung over the bed attracted a swarm of insects. The mosquito net served as a comfortable trampoline where the insects were busy flying and prancing around with abandon. It took some amount of acrobatics to open the net jump inside and tuck ourselves in, while ensuring that we only let ourselves in and nothing else.
Never mind the insects, we were destined to have more company that night! As we settled down having successfully warded off the insects, suddenly we heard a rustle and next thing a white cat leaped into the room from the open window. The sudden intruder gave us a start, but it seemed unfazed as it walked around found a comfortable spot and just sat there. Having made peace with the cat just sitting there, we got back to our conversation.
The steady patter of rain drops on the foliage outside and the tin roof eventually lulled us to sleep. We just closed our eyes and shut our minds from everything that was in the room and what more that might make its way in later that night.
The soul of Hideout is their open dining cum sitting area right besides their kitchen. It was here that we spent all our time when we were indoors. Its a large verandah sort of space covered with a thatched roof and open from all other sides. There were almirahs full of books and board games, and a corner with carefully arranged kitchen toys for the kids to play with. Charpoys, hammocks and jhulas made for comfortable seating.
An organic farm, Hideout serves virtually no animal produce. The tea that we were served in the morning was a aromatic herbal blend, that was so refreshing without any milk or sugar. Breakfast was a simple affair with hot poha or upmaserved with chutney and fruits. If Hemant is in the mood to cook, which he's most likely to be in almost always, he would whip up delicious smoothies and salads.
Sangeeta overseeing cooking on a traditional chula 
Hideout is all about community living, so guests have meals with the family in the dining area. You are free to help out in the kitchen and farm, where you will find Sangeeta and Hemant, along with their children the whole day. After meals you are expected to wash your own dishes.
The 2 days that we spent at Hideout, the heavens opened up and the rains kept us constant company. One evening we went on a small trek and the next day Hemant took us to see his farm and we went starfruit plucking.
We learnt how to make salads and dressings from Hemant; and my friend taught Sangeeta her mother's recipe of cooking moringa leaves. Conversations revolved around healthy living and eating. Morning would turn into afternoon and then evening would arrive and soon it would be night, and we didn't do anything but we felt hungry all the time! There's something about eating simple food that's cooked fresh with ingredients from the farm or those that are sourced locally. There was a lightness that we experienced and a sense of calm and quite which was a surreal.
***

For information on rooms, booking, tariffs and directions, check their website here.

***

All pictures courtesy Hideout