We spent one night with a local Ladakhi family in Rumbak village as part of our 12 day trip to Ladakh. The idea behind the home stay is so simple yet so powerful. The Snow Leopard Conservancy encourages and trains local families to welcome tourists into their houses for a very nominal fee. The money thus collected serves as an additional income for the local people. This additional income offsets the losses that these villagers incur due to livestock depredation by snow leopards and thus the local people share the need to conserve snow leopards.
Completely sold out to the idea we were very keen to do a home stay. We got lucky cause not only did the home stay happen, but we also managed to combine it with a trek. Our trek was classified as a baby trek. We didn't have to cross major hurdles but just walking up a mountain, actually walking across several of them over 3-4 hours was more strenuous than anything else we had done before! The altitude and heat are really not two of the best things to have together when you are doing an outdoor activity.
It was a gradual climb, steep in some places, but the route was along a river that made it very picturesque and nice. There were four of us and our guide. For stretches we were surrounded by bare mountains on both sides, a river down below, a little vegetation, more than you would find else where, because of the proximity to the water source, blue skies and the hot sun.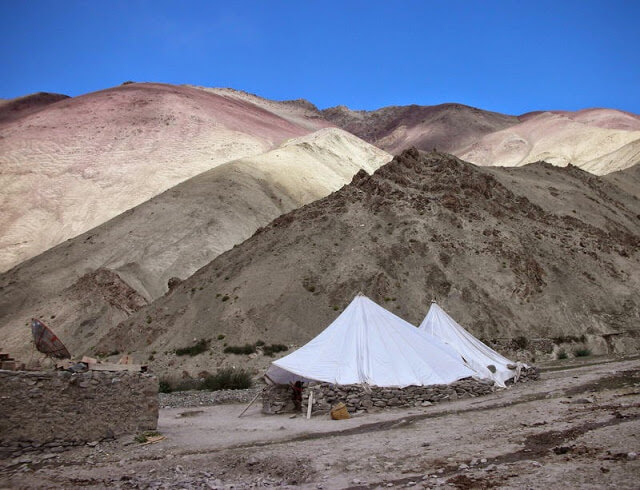 The first signs of the village were fields that gradually grew in size as we walked further. We took a pit stop at this little shop that was nothing but some white, canvas like cloth stretched across a pole to cover a small wall that was the enclosure. They had a few tables and chairs, and were serving hot chai that was such a welcome break after the climb. We sacked out for an hour or so, just put our feet up and relaxed. It was a struggle to get ourselves up as we did have to walk a bit more to reach the village we were staying in. The village itself was nothing more than a collection of a few brick houses, spread out, overlooking the fields. It had this deserted look, as most people were out in the fields working.
As we were two couples we were staying with two different families. The houses are made of brick but from inside the walls and the floor are plastered with mud. A narrow corridor opened into a big room that housed the kitchen and the common area where the family have their meals and watch TV. Our hosts were expecting us so we exchanged our hellos and made ourselves comfortable.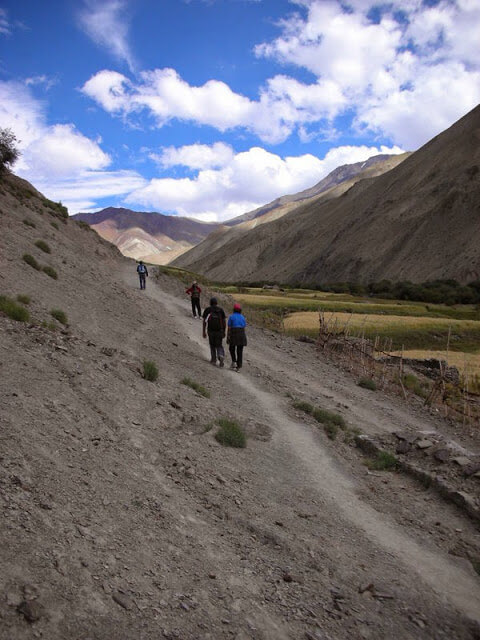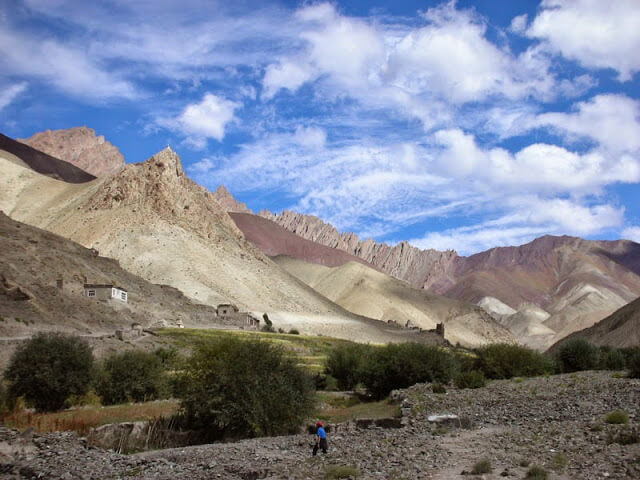 Ladhaki kitchens are very interesting and maybe the one distinct characteristic that distinguishes their homes from any other. They have a variety of brass vessels that are all displayed… actually they display almost all vessels that they have, even if it is an empty Amul tin. The prosperity of the family is judged by their kitchen and the number of vessels on display. The lady of the house made us some gur gur chai or the traditional Ladakhi butter tea. It's made of butter and is salty, almost like a soup.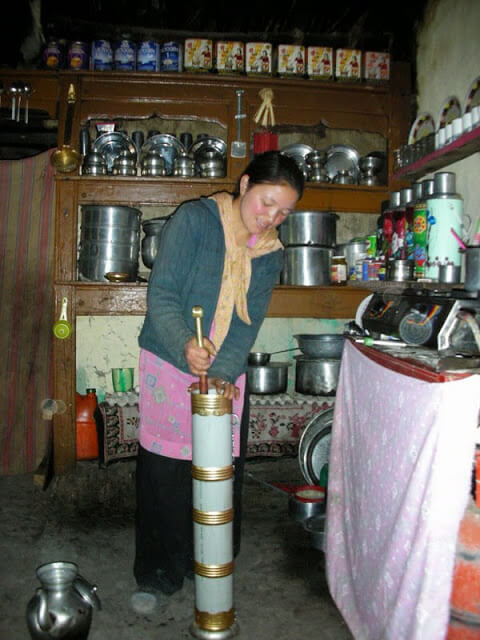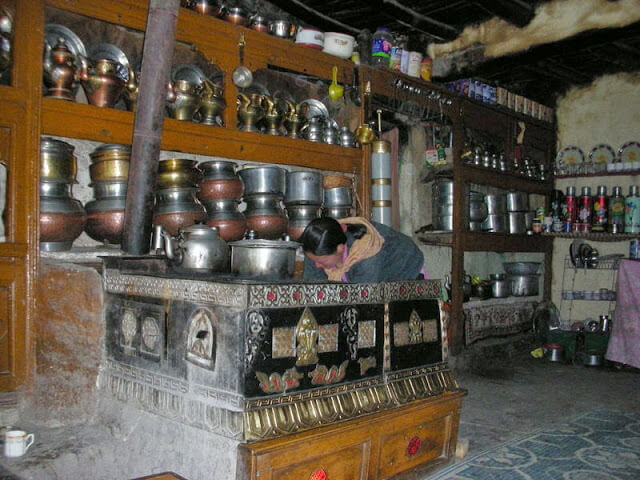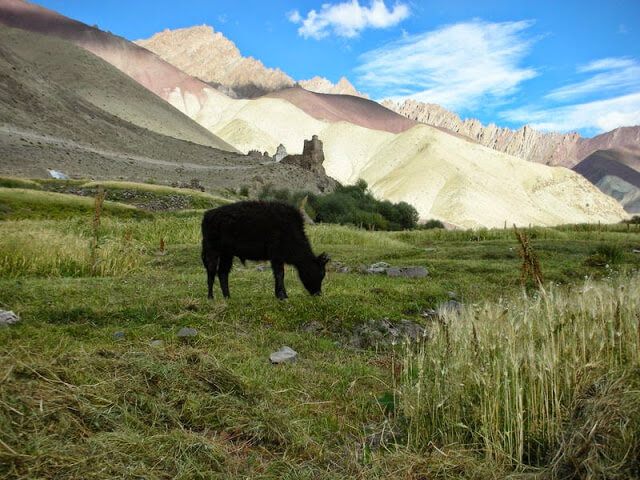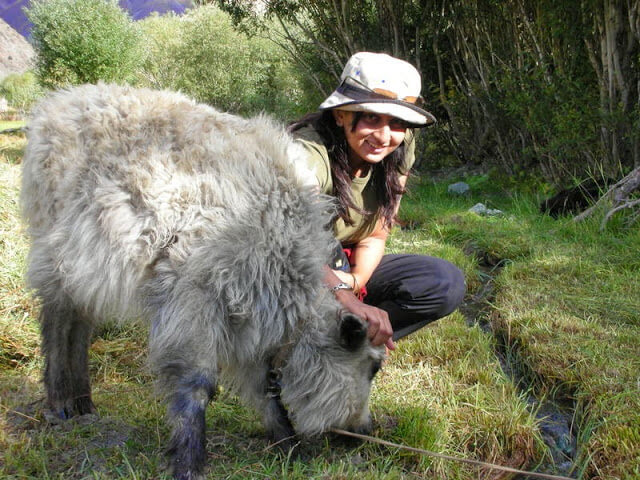 Then we ventured out to the farms, played with baby yaks and even learnt to tie grass bundles from some local women working in the fields. Life in a village is very hard and there is a lot of work to be done, both at home and outside. The village was one of the most beautiful places we saw in Ladakh. The mountains were of different colors, some jagged, some smooth. There was this peace and quite that you would never find in a city. It was truly like being in the middle of nowhere. The blue skies, the green grass looked like they were straight out of a picture postcard.
As it got dark we went back to our respective houses and helped the families make dinner. Surprisingly, Ladhakis mostly eat rice. So dinner was simple dal-chawal and potato subzi. We were also offered the local Chang or the local alcohol, that has a slightly fermented taste.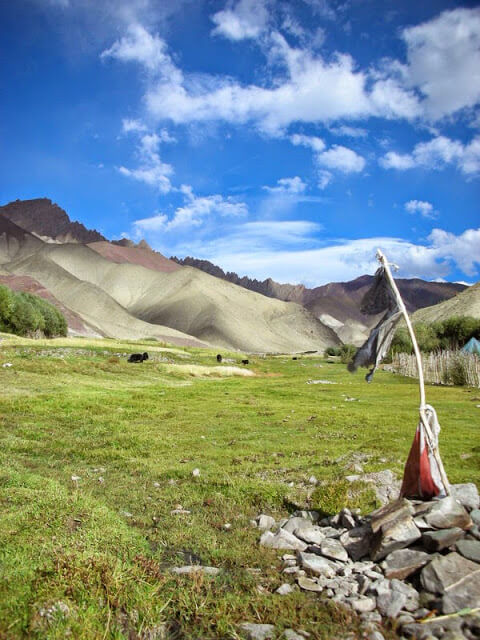 The training these households get is quite evident, because our rooms had the same objects even the same posters of birds and animals. The rooms have the bare minimum requirements but are clean and comfortable. However, Ladakhi toilets are a completely different story. In fact, the toilets were the most interesting part of the home stay! Ladakh being a cold desert, water is a big problem. Toilets are mostly raised rooms with a pit in the floor. You go finish whatever job you want to and then push some sand into the pit. The collections are used as manure, thus the whole process is extremely eco friendly.
By the time we were up next morning, almost everyone else in the village was out in the fields. The locals start early and come back for breakfast by around nine. Breakfast consisted of fresh Ladakhi bread, which is like a roti, with some jam and butter. With our bellies full and rested we packed up and began our long trek down. In retrospect, if we hadn't pushed ourselves and made the journey up we would have completely missed out on the beautiful Rumbak village and a very interesting night at a local home.