The beauty of slow travel is that it affords you the luxury of being an observer of daily life in a new place. I travelled to Gangtok for 5 days of which 2 were taken up by traveling. The ride up to Gangtok was lovely in itself. Read about it
here
.
With 3 days and so much to do, we did very little! That said it was a fantastic trip cause we were in no hurry to get anywhere or to do anything. I don't remember the last time I spent majority of my day sitting in a cafe reading a book! In Gangtok thanks to our visit to Tsongmo Lake getting cancelled because of a landslide, we had ample time to sit around sip on some refreshing Sikkim tea and watch the locals go about their business on M G Marg – the city's pedestrian only walkway. Lined with cafes, shops and restaurants on both sides, this 1km stretch is a hub where locals and travelers gather.
There are benches all through the walkaway in the center and they made for a great vantage point. Here are some images of the locals as I observed them in Gangtok.
This absolutely adorable little girl was having fun with the metal chains while her grandmother kept an eye on her. In the photo of her grandmother and her, I love her serious expression!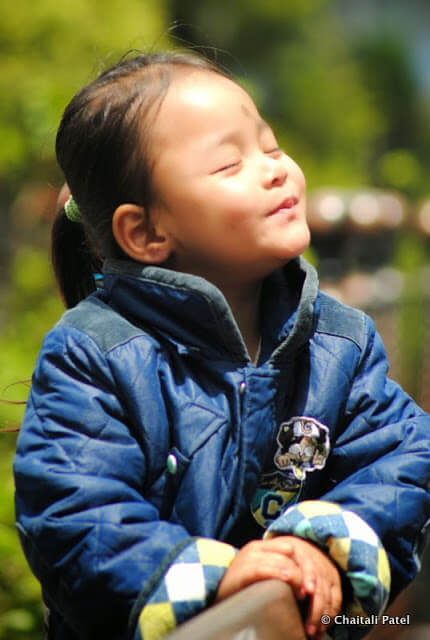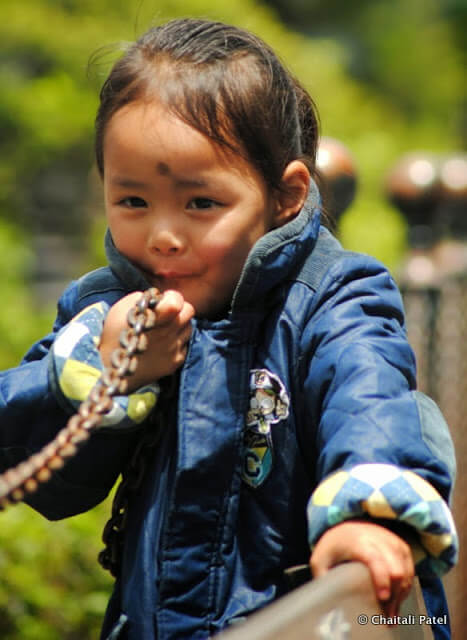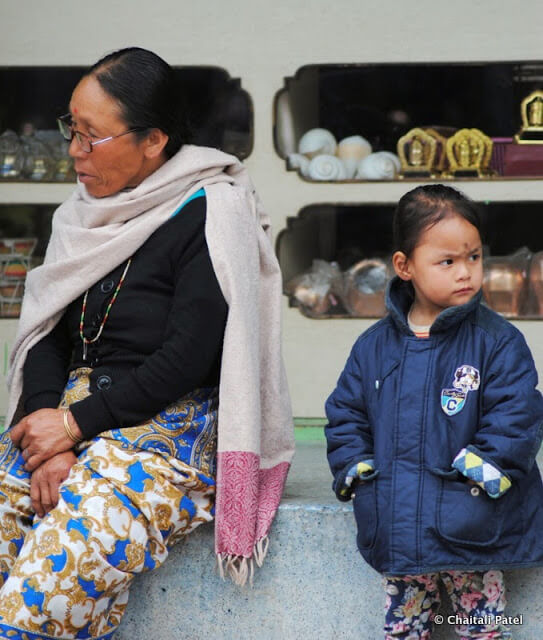 In Gangtok its not uncommon to see monks in public places. We saw many and wondered if they were from the local monastery or if they were visiting from out of town. Swaddled in their deep maroon and mustard robes they stood out against the green buildings of M G Marg.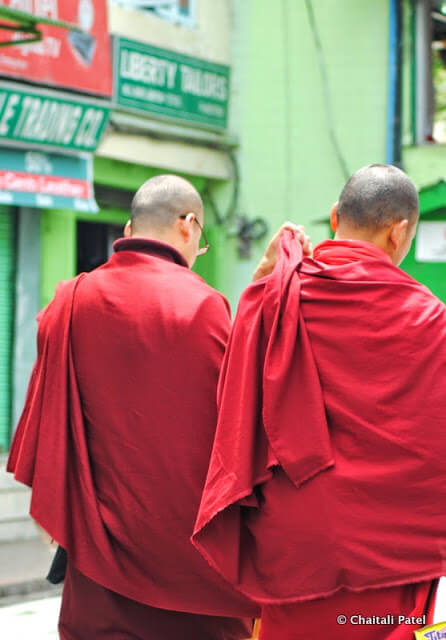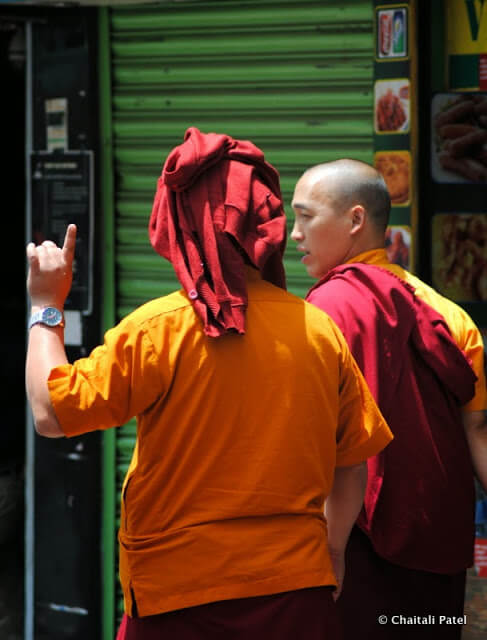 This old lady was sitting around with her caretaker. She knew that I was shooting her, but didn't mind and looked right into my camera when I hoped she would.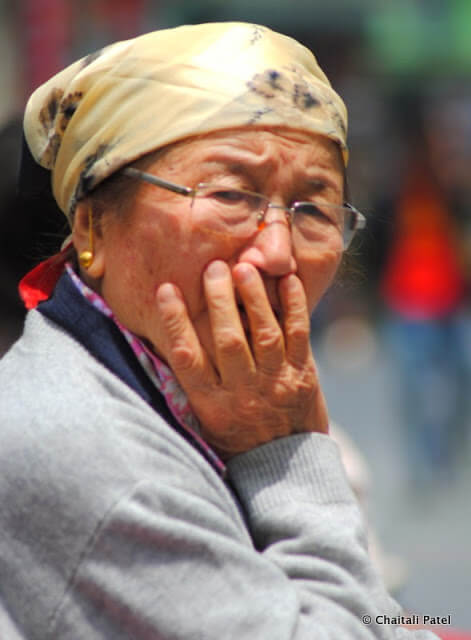 A lady of Nepali ethnic origin (guessing from the green chain around her neck which married Nepali women wear) was in the midst of a serious discussion with her family.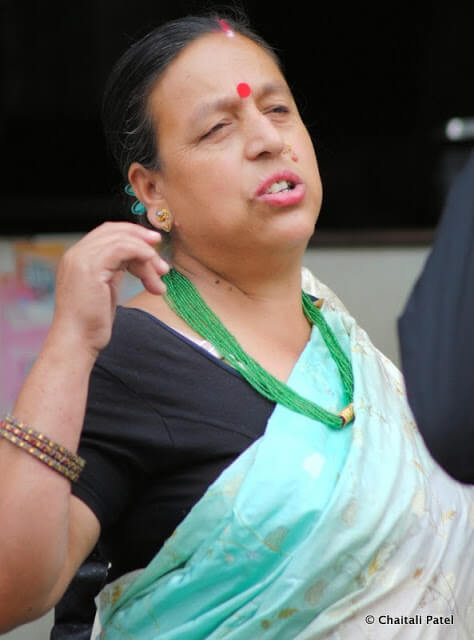 A mother carries her child home. This seems to be the most common way of carrying people and goods in Sikkim. I saw people carrying food items, wood, boxes, a gas cylinder and even a small steel cupboard on their backs.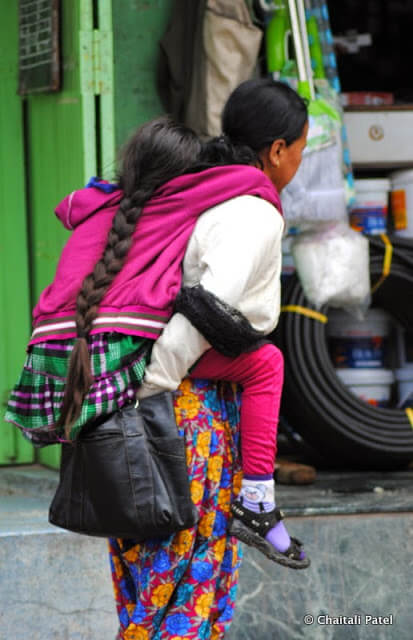 This old couple sitting bang in the center of the street made for such an interesting picture. I just had to be patient to get a clear view as it was a busy morning and people there were a lot of people walking around.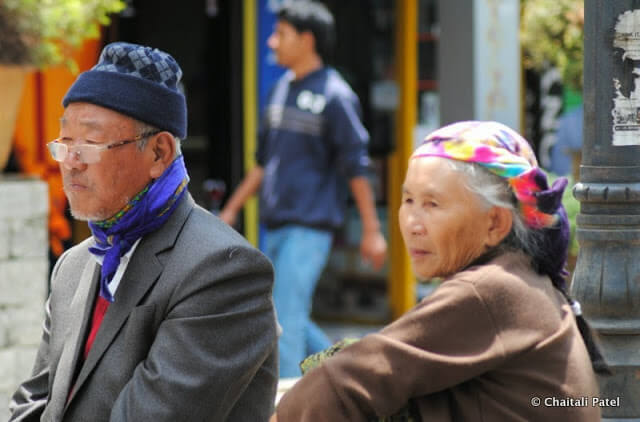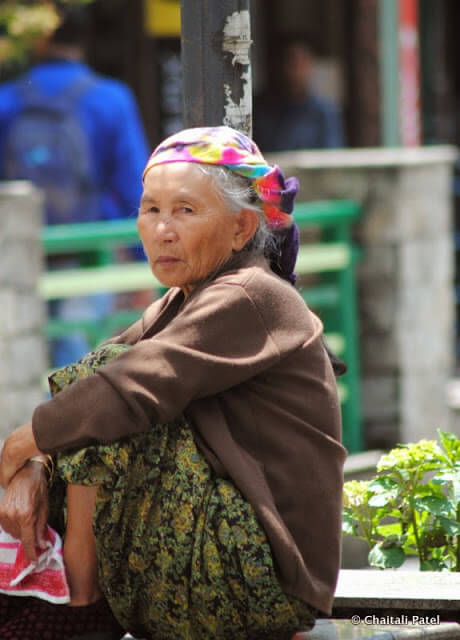 This old man was extremely popular and knew many people walking around and in the shops. I can't seem to get enough of their faces, all those lines and those piercing eyes make for such an interesting subject.