There are many reasons why I travel, the foremost is to see new places and experience varied cultures. When I am picking a place to travel too, I most often end up choosing places that have a different culture from what we see in India. At the outset Oman, might seem similar to India, but if you look closer you see how unique its culture is. Given its strategic location and abundant natural resources, the country has always been of vital importance in the Arab world. Centuries of trade have influenced the country in many unique ways. Part desert, part mountain, part coastal area – Oman manages to pack all this and more, even though it isn't a large country in size.
Considered to be one of Asia's best kept secrets – Oman brings to my mind images of faraway desert lands, beautiful oasis flanked by palm trees, soaring minarets, a vibrant Middle Eastern cultural fabric complete with souqs, smiling faces, frankincense and more. If I get a chance to visit Oman, I would love to experience the best of all that the country has to offer.
1. Soak in Muscat's atmosphere – the capital of Oman, Muscat is a well developed modern city, that has managed to preserve its history and heritage. While spending time in Muscat I would like to experience local life as well as explore its rich past. The Bait al-Baranda museum located in a 1930s house, is a good starting point to get acquainted with the country's history and evolution.
Narrow alleys, piles of antiques, frankincense lingering in the air, souqs are an integral part of Omani life and provide the best window to experience local culture. The 200 year old Mutrah souq located in the old part of the city is famous for every kind of Omani artifact and souvenir. I would love to spend time wandering through its many alleys soaking in the madness and mayhem.
Souqs saturate the senses and I would like to walk along the Mutrah Corniche watching the sun set and unwinding the way the locals do after a hectic day of sightseeing and shopping.
Omanis take their religion very seriously, and the Grand Mosque built by Sultan Qaboos to mark 30 years of his reign bears testament to this. Undoubtedly one of the most beautiful structures in the city, an ornate and magnificent prayer hall and the second largest hand- loomed Iranian carpet in the world – are some of the key attractions of the Grand Mosque.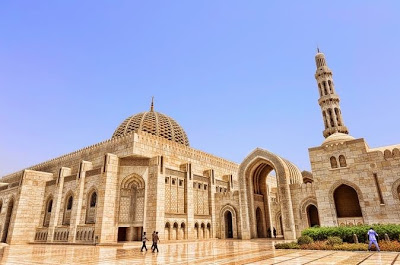 2. Explore the ramparts of the stunning Nizwa Fort – a short drive from Muscat through the scenic Hajar mountains takes one to the 17th century Nizwa Fort. Located amidst the gorgeous sand coloured mountains, the ancient city of Nizwa is a sight to behold. The souqs of Nizwa and the Friday goat market are other must sees here, and I would like to experience both.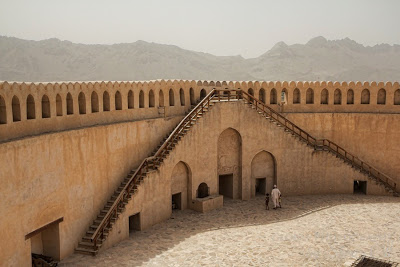 3. Walk through orchards of apricots, peaches, walnuts and pomegranates in al Jabal al Akhdar – The spectacular green mountains is supposedly like none other. Located at a higher altitude, the region gets more than average rainfall, thus making the climate cooler and the area suitable to grow a variety of fruits, vegetables and spices. An abundance of roses grown here, has made the region popular for rose water extraction. The thought of juicy pomegranates and the refreshing smell of roses sends me into a tizzy.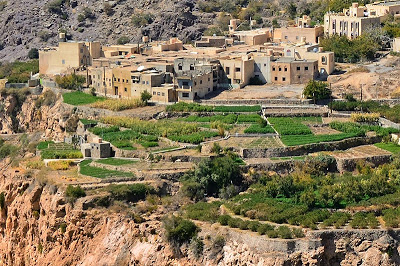 4. Wade through the aquamarine pools of Wadi Shab – Visiting the Wadi Shab is a must-do experience in Oman – to experience the beauty of Wadi Shab is akin to gulping down a glass of cold water in the midst of a hot parched day. A feast to the senses and soul, the breath taking Wadi has hidden pools, waterfalls and a mysterious cave to explore.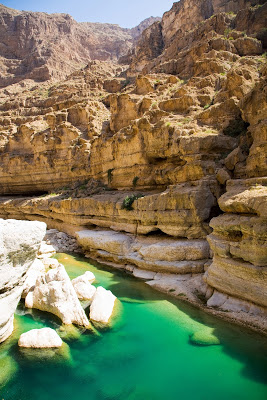 5. Go camping in the desert at Wahiba sands – Considered to be one of the most beautiful places to camp, it is here that visitors can get a chance to come face-to-face with waves of sand that stretch for miles and interact with its colourful inhabitants – local bedouin communities. The bedouins are an integral part of Oman and have a fascinating way of life. Sleeping under the stars surrounded by towering sand dunes and waking up to the first rays of the sun that turn the sand gradually from orange to gold, would truly be magical. In addition Wahiba offers a variety of adventure desert activities such as camel rides, dune bashing, trekking and more.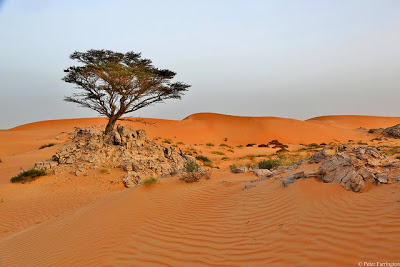 6. Go diving off the coast of Daymaniyat islands – For me Oman's uniqueness lies in how easily you can go from a region of barren mountains to an oasis of emerald green, from towering orange sand dunes to azure blue seas. Protected as a nature reserve from 1996, Daymaniyat are a group of small islands with abundant natural beauty and rich flora and fauna. Just the idea of being able to spot whale sharks when I am visiting a desert country makes for a heady concoction and one that I would love to experience.
7. Marvel at large Dhows in Sur – One of the prettiest coastal towns in Oman, Sur has a rich history and past, as well as the charm and allure of a small seaside town. The coast and trading have always been an integral and vital part of Oman. Dhows (an all wooden traditional Arabian ship) made in this small nation were sought after the world over. Today, Sur has the only remaining Dhow-building yard of its kind in the world.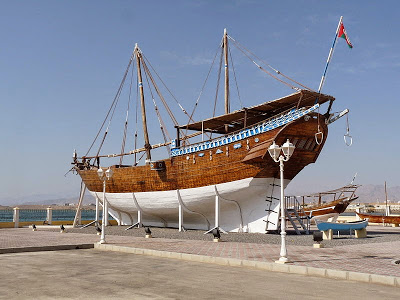 Just putting this list together has taken me to lands far and wide – to so much beauty that I did not even know existed. I wait eagerly to hear "Ahlan wa Salan" and to start on my Oman journey.
***
Photo courtesy in order of appearance:
Lonely Planet
ottsworld.com
thehedonista.com
Wikimedia Commons
Tourism Oman website
Wikimedia Commons
***


This piece is my entry for "Beauty has an address" contest on Indiblogger.