Travelling with children can be a very interesting experience for all those involved to say the least and planning ahead is highly recommended. As a parent if my child is having a good time on a holiday, that directly means I am having a great time too!
There are a few standard parameters that most parents look for when they pick a particular destination, such as convenience of getting there, things to do with children, weather, food, language and last but not the least, safety.
We were visiting family in Kuala Lumpur last year and we wanted to travel around Malaysia. Langkawi was the most obvious choice as beach holidays are always a safe bet with kids. But the wild untamed jungles of Borneo were calling out to me after I had read a travel feature on the island. So as I sat wondering where we should go, I asked my 2 year old daughter if she would like to go to the beach or to the forest, and without batting an eyelid she chose the latter. That's it… all I needed was a little convincing and her little voice had helped me make up my mind.
While going to Borneo was my dream, I was hoping we were doing the right thing by taking a 2 year old and 4 year old there. My heart was set, but frankly I had so many apprehensions about travelling to Borneo with children. And it did not help that everyone we spoke too thought that Borneo and kids was not a good combination. We did however go ahead with our plan, and luckily for us, Malaysian Borneo turned out to be a great place to travel too with kids, even really young ones.
The third largest island in the world, Borneo is divided into 3 parts, each belonging to a different country – Brunei, Malaysia and Indonesia. Malaysian Borneo is further divided into 2 states – Sabah in the North and Sarawak in the South. Kota Kinabalu in Sabah, is a very popular tourist destination both with locals and outsiders. Sarawak the larger of the 2 states is relatively obscure and that's exactly why it seemed so much more appealing to me. Fortune does indeed favor the brave, as we went to Borneo bang in the middle of their monsoon season, and enjoyed lovely sunny weather for a large part of our stay.
So if you looking for a off beat destination to take your kids too, you should seriously consider Malaysian Borneo and Kuching in particular, and here's why…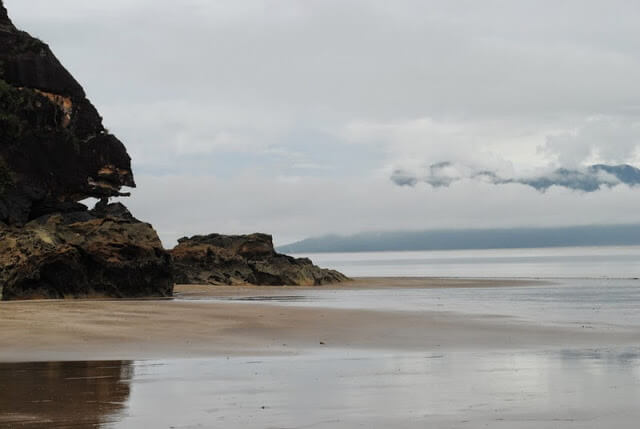 Easy accessibility

Sarawak is well connected to Kuala Lumpur. Low cost carrier Air Asia and Malaysian Airways operate flights to Kuching (the capital of Sarawak) through the day. A direct flight to Kuching takes about 1 hour and 45 minutes.
Malaysian Visa will do


To visit Malaysian Borneo, you don't need a separate visa. You can travel around Malaysia with ease once you have entered the country and passed through immigration once.
Hotels to suit different budgets


Kuching has a number of hotels catering to families with children across different budgets. Some offer babysitting facilities, feature a special kids menu, provide the basics like baby cots, high chairs and more. We stayed at the Hilton Kuching, located right on the Kuching waterfront. Read about my review of the hotel here.
Beaches, Forests, Culture


What makes Kuching special, apart from its rich history and beautiful waterfront, is the easy accessibility it provides to pristine beaches and untamed wild forests. (Kuching and its surrounding areas have great roads, so there are no bumpy rides to worry about.) Think wild forests, wind carved rock formations, deserted beaches, and that's Bako for you. Located an hour away from Kuching, what makes Bako perfect to explore with children – is that most of the flora, fauna and wildlife that Bako is famous for, can be spotted on a short walk around the park headquarters. Also an hour away from Kuching is Damai beach. A number of premium beach resorts can be found here and the award winning Sarawak Cultural Village is right next door. The cultural village is a fun way to introduce children to Borneo's rich past, its many indigenous tribes and their way of life. In a different direction from the two above and also an hour away from Kuching is Semenggoh Rehabilitation Centre. See the endangered Orang-utan here in their natural habitat.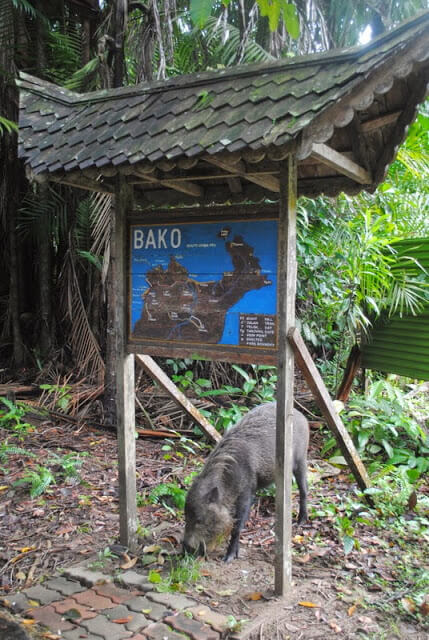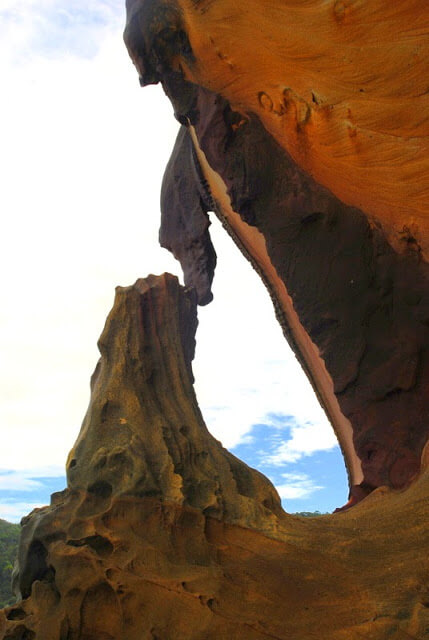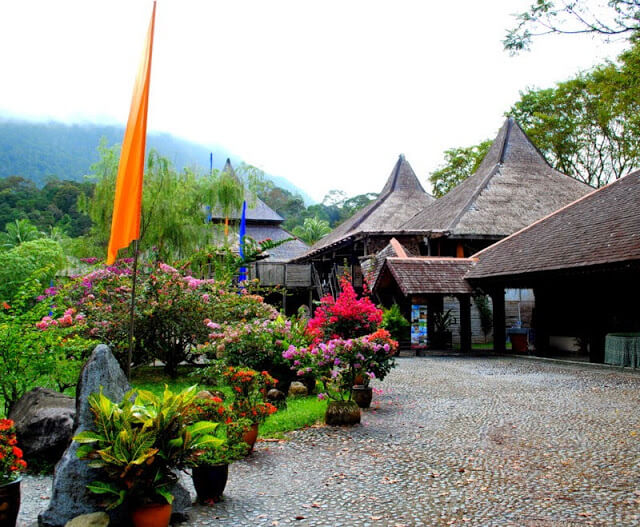 History

You don't have to spend hours in a museum to discover Kuching's history. Do it at your own pace as you walk down the waterfront promenade, as your kids run around. Make sure you stop and read the many informative plaques installed throughout the promenade that tell you about the city, its glorious past and its famous rulers – the Brooke Dynasty. Or hop on a river cruise down the magnificent Sarawak river and enjoy the sunset as you learn about the city and its origins. Most of Kuching's significant buildings are located besides the promenade or can be viewed from it.
Food to suit different palates
Kuching has a variety of standalone cafes, restaurants and popular fast food chains. A wide variety of Malaysian dishes can be found here, the most well known being the Sarawak Laksa. If you are a sea food person, Top Spot food court a short walk from the Hilton. Popular with locals and tourists, Top Spot is a parking lot that becomes a food court once the sun goes down. Indian food can also be found in Kuching and vegetarian dishes are made on request.
Child Friendly & Safe

The waterfront promenade is a great place to let the kids run around and play. Its perfectly safe and clean. As always be on guard, but there's nothing that you need to worry about. If its raining (and it does very often) you can always take the kids to one of the many indoor play areas in the city.
Additional Vaccinations Not Required

You are going into the wild jungles, but the kids don't need to take any additional vaccinations. (This is from my personal experience and you might want to check with your physician as different countries have different norms.)
So has Borneo caught your fancy? The first stories our children hear about are those of the jungle and its many inhabitants, but the jungle is one of the last places we take our children too. Take them into the forests, teach them the importance of what they are seeing and the need to conserve our forests. A trip to Malaysian Borneo could turn out to be a valuable life lesson and a fun one at that.
If you are planning a trip to Kuching, I will be happy to answer your queries and plan your itinerary. If you have already been to Kuching, I would love to hear about your experience.