For city dwellers, silence is a rare commodity. And quietude was what I was looking for on a weekend trip to Maachli, a farm stay in Vengurla in Maharashtra's southwestern district of Sindhudurg. When I closed my eyes on my first night there I was enveloped, not by silence, but the calming lullaby of crickets chirping, and insects and larger creatures rustling. Closer to dawn the sounds of crickets gave way to a variety of birds: the calls of shrill sunbirds and red-whiskered bulbuls occasionally interrupted by a loud quacking, almost like a distress call.
Over cups of hot ginger chai, Prathamesh Samant, who runs the farm stay with his parents Pravin and Archana, told us that the quack was the call of a Malabar pied hornbill, commonly found here. Father and son designed the farm's six cottages to resemble maachli—shelters built using local techniques and materials. During cultivation and harvesting, farmers stay in such shelters for days, tending to their crops. The cottages at Maachli have large sit-outs that open on to the farm's lush plantation of coconut and banana palms, and a variety of spice trees. The local microclimate keeps the place cool, even in summer.
With mobile connectivity sketchy at best, and televisions and Internet thankfully absent, the enticements of the natural world beckoned. Prathamesh assured us that we would spot the regal hornbill during our stay, and it was with this hope that we set off on a walk with him one bright, sunny morning.
We climbed up a gravel path overrun with weeds, and soaring mango, betel nut, teak, and arjuna trees for company. The landscape was a carpet of green, with grass and moss colonizing every available cranny; though the monsoons had arrived a little late, this region had received a good spell. Finally, the climb flattened at a rolling plateau, where farmers were busy cultivating their kharif crops; some ploughed fields with their oxen to sow groundnut seeds.
We continued on, accompanied by the rustle of the wind in the leaves and the occasional loud call of the red-wattled lapwing. We sat for a bit, watching a few village children splashing in a pond fed by a gurgling stream.
When we got back to the farm, Prathamesh's mother had whipped up a feast with the help of local Malvani ladies. They served us puri-bhaji, and three kinds of poha (flattened rice): tikat kanda poha with spicy onion, gode poha made with jaggery, and kalo lele poha, which has a smoky flavour.
Subsequent meals at Maachli were just as good, with fresh ingredients like coconut, pepper, bananas, breadfruit, and nutmeg coming from the farm. Most of the other ingredients were sourced from the nearby village market. Almost every ingredient, from country chicken and freshwater fish, to a wild plant called taikala, was made using traditional methods and implements. The food was served in earthen pots, and we ate our meals on patravali or leaf plates.
The dining area—a few large tables and benches under a thatched roof—lies between the kitchen and the freshwater stream, the highlight of the property. In fact, one of the ways to enter the property is by wading through the stream's shallow waters. During our stay, the children never passed up a chance to head to the stream to spot fish, float paper boats, or take a dip.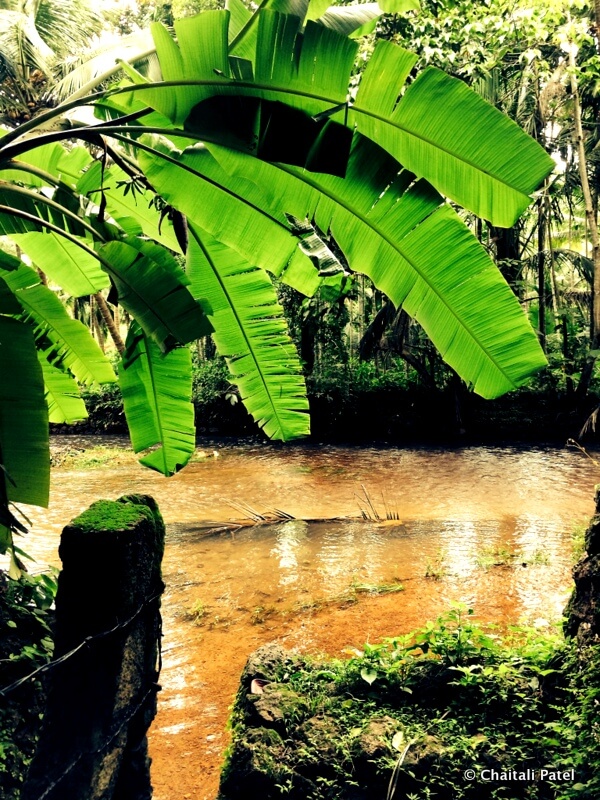 While skilled cooks sated our appetites and the stream provided simple entertainment, the hornbill continued to elude us. Finally, on a walk around the village with Prathamesh, we were chatting with a local potter when our conversation was interrupted by a quack. Three hornbills flew above us from tree to tree. Large in size and loud in volume, they were a spectacular sight and a great find—like much else at Maachli.
***
Accommodation Though minimal, Maachli's six cottages have everything needed for a comfortable stay, including a modern bathroom. Copper bottles and tumblers for drinking water and a large copper bucket in the bathing area create a rural ambience (www.maachli.in; doubles from ₹3,800; ₹950 for an extra person; ₹350 for children between 5-10 years, without extra bed). Meals cost extra (breakfast ₹150, lunch/dinner ₹450; discounted for children). Food can be customized for specific dietary requirements.
Getting There The farm is 550 km/9.5 hr south of Mumbai, and 93 km/2 hr north of Panjim, Goa. The closest railway station is at Kudal (19 km/30 min by auto or taxi), where trains from Mumbai to Mandovi and Mangalore make a stop. The nearest airport is at Dabolim, Goa (116 km/ 2.5 hr south).
***
Published in the February 2017, National Geographic Traveller India magazine. Read it online here.