There are 2 kinds of people, those who like museums and those who rather not step into one. I come under the former category. Taking children to a museum however, is a whole different ball game. I was apprehensive about how Anika would take to a museum, but luckily she loved it. But to tell you the truth, the trick was doing things that she would enjoy and love.
Here are some London Museums that are fabulous for kids! Given how often it does rain in the city, a museum visit makes for a perfect rainy day activity.
NATURAL HISTORY MUSEUM
The first thing that strikes you as soon as you get to the Natural History Museum is the building that houses the museum. A striking example of Romanesque architecture the building both from inside and outside is an architectural marvel. Built using terra-cotta which was considered to be more resistant to Victorian London's harsh weather conditions, the museum is considered to be one of London's most famous landmarks.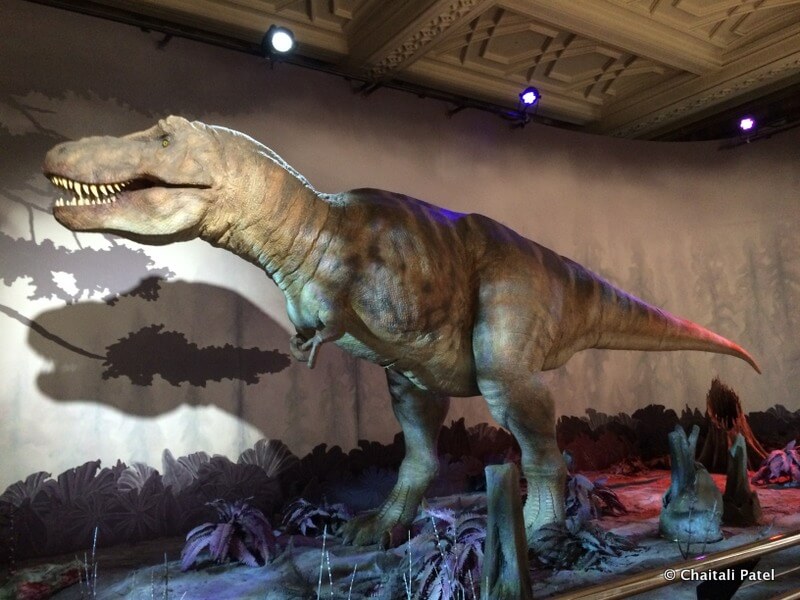 Once inside be ready to be be dragged from one end to other by your eager child as the museum and its many thousands of exhibits can entertain you for days let alone hours.
With smaller children its best you research and pick the sections that you absolutely must see and head there first. The various exhibits are arranged into zones – blue, green, orange and red. There's a museum map that you can download from the museum website here. If you don't manage to do that beforehand you can buy it at the museum for 1 pound.
If you would rather rely on technology to make your visit easier, download the museum app, which is again available on the website, that will help you make the most of your visit.
Each zone has a pre designed trail that will take you through the highlights of each zone as well as a few hidden treasures. These trails usually last been 1 to 2 hours. Find out about these trails at the information kiosk in the museum.
I was clear that I wanted to show Anika dinosaurs and so that's where we started from. The dinosaur section (blue zone) is possibly one of the most popular in the museum so time your visit if you want to get a decent sighting. The life size T Rex model that yowls and growls and moves, is the top attraction here. We visited the mammal section which is also part of the blue zone and showcases some of the biggest mammals on the planet as well as some which are now extinct.
If you are eager to spend a night at the museum try their Dino Snores activity. Book it in advance to avoid disappoint as its popular activity. Also look out for the Dino store that's full of goodies all modeled around dinosaurs!
FACILITIES: The museum provides wheel chairs on hire and most of the galleries are accessible by lifts. There are baby changing facilities available in some of the washrooms which are clearly signposted. There's a cloak room where you can leave luggage, umbrellas and coats for a small fee.
EATING: If you are tired with all the walking and activity, take a break at one of the museum's many restaurants and cafes. Sit down and enjoy a cup of hot chocolate with some decadent cake at the Central Cafe or The Coffee House. If you are hoping to have a meal try The Restaurant or The Kitchen. The Restaurant has a kid's menu and provides microwaves to warm baby food. The Kitchen has special lunch and activity packs for children. If you rather just bring your own food then make your way to a designated picnic spot where you can enjoy your meal.
NEAREST TUBE STATION: South Kensington (Piccadilly, Circle and District Lines)
Entry to the museum is FREE for all. Some specific exhibits may need to be paid for.
Visit the museum's website here for more information.
LONDON TRANSPORT MUSEUM
Go here to transport kids into a world full of automobiles of all kinds. Spread across different floors, the museum has exhibits that capture the evolution of the many modes of transport found in London. At  the information desk collect your stamper card and collect transport stamps as you go through the museum galleries. There are actual buses that children can pretend to drive, and a simulator that lets you try your hand at driving the iconic London tube.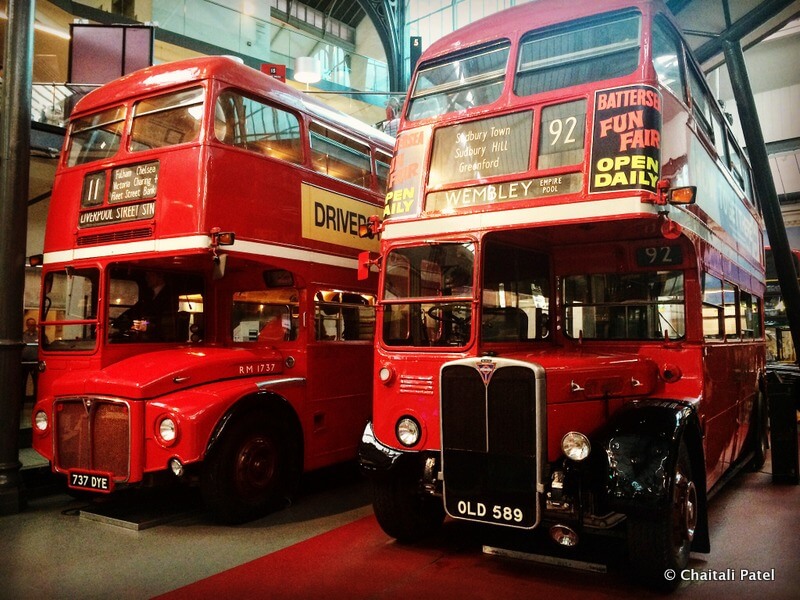 Look out for the new family play zone open for children between the ages 0 to 7. There's an interactive wall, learning blocks, costumes for kids to put on and pretend to be bus drivers or pretend to be the captain of a ship and sail the Thames Nipper, or fly the Emirates Air Line cable car.
Right besides the play zone are tables and chairs where parents or care takers can wait while the children play. I saw some people eating there as well.
For older children (ages 3 -12) there are some fun activities in the family station such as folding up your own bus, spotting shapes or creating your own transport story.
FACILITIES: The museum has a baby changing room, baby feeding room, a picnic area, ramp and lift access to all areas of the museum.
EATING: In the museum's Upper Deck Cafe indulge in some transport shaped pasta, have a tube line milkshake or try a kiddie meal that comes in a bus shaped lunch box.
NEAREST TUBE STATION: Covent Garden (Piccadilly Line)
Located in Covent Garden, plan your day such that you can visit the museum and then roam around Covent Garden.
The museum is FREE for kids up to the age of 17. AduIts do have to buy a ticket, but the ticket is valid for a whole year.
For more information click here.
SCIENCE MUSEUM
Right besides the Natural History Museum is the fantastic Science Museum. As the museum's website says, 'striving to be the best place in the world for people to enjoy science, the Science Museum's world-class collection forms an enduring record of scientific, technological and medical achievements from across the globe. Go here to wander into a world full of invention and discovery!
For those kids who enjoy science, this museum will keep them occupied for hours. For others, the exhibits and interactive displays will definitely ignite their curiosity in the sciences. For small children, take them to look at planes suspended from the ceiling, models of astronauts and don't forget to look out for a piece of the moon that's on display.
Download the museum map from the museum's website here.
We went to the museum in the evening and happened to be there just as their special show for kids was about to begin. All about bubbles, the show is a great way to teach kids about shapes, get them thinking about how bubbles are made or just let them have a blast in a world full of bubbles.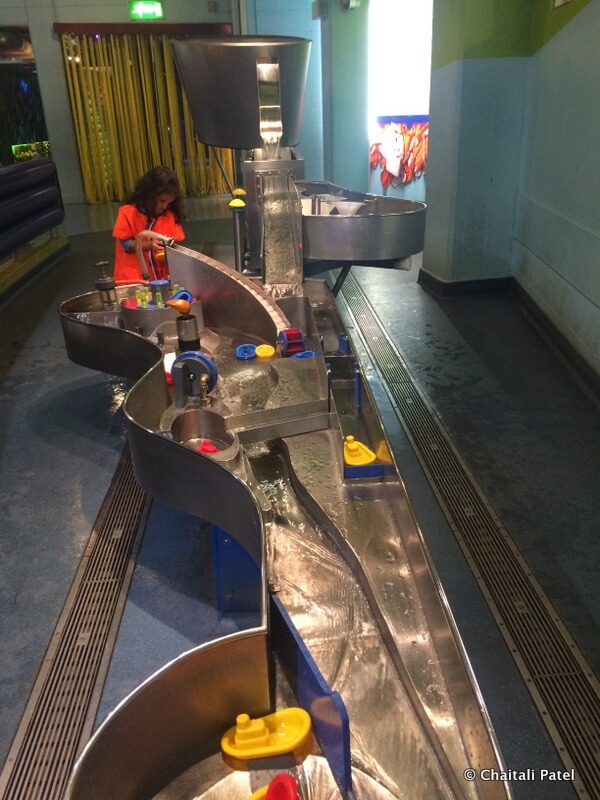 The Garden located in the basement of the museum is a hands on play area where children (open to children up to 6 years of age) are introduced to the basics of science in a fun manner. There are explainers around to help the children if they have any questions or are just curious about what they are seeing. If the kids are too young worry not, they will still love the area as it has many fun activities for them.
Anika loved the water zone that had water flowing in all directions over wheels, through small passages and a pump. The moving water allows children to experience first hand concepts such as floating, sinking, ripples, bubbles and more.
There are large blocks that are fun to move around and build things with. There's also a snake chute, wheel barrow and bucket hoist to play around with.
FACILITIES: A limited number of wheel chairs are available and these can be pre booked by telephoning the museum in advance. Baby changing facilities are also available and are clearly signposted. For more details on parking, toilets, lifts, etc. check the museum website here.
EATING: The museum has 2 main cafes and several smaller ones that you can choose from. You can bring your own food and eat it at the designated picnic spot.
NEAREST TUBE STATION: South Kensington (Piccadilly, Circle and District Lines)
For more information visit the museum website here.
BRITISH MUSEUM
As soon as we stepped out of the Russell Square tube station it began to pour. The plan was to go to Coram's Field – a big playground for children but the weather wasn't cooperating with us that day. So I decided to head to the British Museum instead. The museum was packed and that also may have been because it was a very rainy day in London.
I took Anika to the mummy exhibits because I thought that might interest her. But she's still way too young to understand what a mummy is. She asked me question after question and we walked and walked and finally exited the museum.
That said the museum would be a good place to visit with older children, especially those who have begun history lessons in school. The museum has a whole host of activities that children would thoroughly enjoy!
Pick up a backpack by paying a refundable 10 pound deposit and start exploring the museum. The backpack has activities that the child can do and they are customized according to different themes and age groups. To find out more click here.
The Family Desk in the Great Court lets you borrow crayons, pencils and pads.
There are free trails through the museum each customized according to different themes. Get hold of one and set off to explore the museum. Each trail takes roughly 30 – 40 minutes to complete. Download the trails here.
FACILITIES: There's a cloak room where you can leave coats, luggage or umbrellas for a small fee. Should you need a stroller, you can get fold-up push chairs for free at the cloak room. There are baby changing and feeding rooms located around the museum and these are clearly signposted.
EATING: There's one restaurant and two cafes in the museum. If you buy an aduItmeal at the Gallery Cafe you get one FREE child's meal (for children up to the age of 12). There are designated spots where you can eat food that you have brought along with you.
NEAREST TUBE STATION: Russell Square (Piccadilly Line)
Vist the museum's website here.
TIPS TO ENJOYING YOUR VISIT TO A MUSEUM
Plan, plan, plan! Hopefully there are enough links and information above that will let you research beforehand what it is that you would like to do in the museum of your choice. If your children are older do the planning and research together that might get them really excited about their visit to the museum.
Time your visit! Just type out the museum's name in a google search bar and when the search results show up, look at the right side of the page that shows you popular times – a graph that tells you when the museum is most likely to be crowded. A over crowded museum can make it very tiring as you push your way through to get a decent look at any of the exhibits.
With children its best you take turns with your spouse, parents, friends or whoever else it is that you travelling with to see some exhibits that you really would like too in a museum. There could be nothing more frustrating than standing in front of the Tutankhamun mummy and not be able to look at it properly because your child rather be somewhere else right then! Maybe your child and spouse can do an activity / trail / visit the children's section in the museum while you take a quick look around.
You might want to locate toilets closest to you to avoid any accidents or avoid being lost when your child has to absolutely go!
Plan ahead to eat at the museum or carry your own lunch, as I have found that Anika enjoys a museum most when she's on a full stomach.
If you are going to visit the stores in the museum you might want to decide on a budget that you would like to spend beforehand with your child. Goodies in museum stores are expensive to say the least.
Go to a museum on day when you are not rushed so you can spend sometime looking around then take a short break and explore more! These really are fabulous museums!
You are going to walk for than you can imagine, so put on those comfortable walking shoes.
Go ahead, take the plunge, I am sure your kids will enjoy these museums!

***
Read: In London With Kids: Go Here