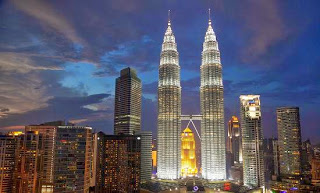 When we went to Malaysia going up the Petronas Towers was on my list of must do things and I was so sure it would just happen. It was only when we got there did I realize that Kuala Lumpur's pride and Malaysia's most recognizable structure is not that easy to visit for visitors. In fact, a lot of locals have never been up the Towers themselves as getting tickets to go up is something that needs a lot of advance planning.
For most people Kuala Lumpur is a couple of days visit, coupled with traveling around Malaysia or other parts of South East Asia. While we were standing in the queue to go up, I saw a number of visitors who were turned away because tickets had to be bought most often a couple of days in advance. If you do want to go up the Towers its best you book tickets online
here
. I had some difficulty booking through this website, so I then went and bought tickets from the counter. Tickets are sold across 24 time slots, with about 40 visitors in a slot. We chose a 6:15 p.m. slot, but it might be better to take the 7:00 p.m. one to catch a view of the twinkling city lights against the setting sun, which does make a spectacular sight. Depending on the time of the year and weather, it might be a good idea to check the sun set time on the day of your intended visit.
If you happen to be in Kuala Lumpur and haven't booked your tickets in advance, then try and buy tickets at the counter first thing in the morning. While the website states that the counter at the concourse level opens at 8:30 a.m., we were told that people start queuing up from as early as 7:30 a.m.
Is it worth all the effort? I would think so. Yes the towers are a whole lot of steel and glass but they add so much to Kuala Lumpur's skyline. Once you get over the hassle of getting tickets, the visit itself is very well handled. You get to spend adequate time both on the skybridge connecting the 2 towers as well as the observation deck. The skybridge which is the world's highest double-decked bridge not only links the towers at levels 41 and 42, facilitating movement, but also serves as an escape route in case of emergencies.
We had our daughter with us and had to cut short our visit. While safety protocol forbids visitors from leaving with an earlier or later batch, the staff were so understanding and accommodating, and helped us leave early.
Parental tip: You are not allowed to take food or drinks on the visit. It might be helpful to feed your child well before your scheduled time of visit. We had a very hungry two year old and had to cut short out visit as she just had to eat!
Note: This is not an image taken by me. It's an image that I downloaded from google and can't seem to find who clicked it in order to give due credit.