I have been away from my blog for far too long – blame it all on Diwali and the many festivities that go along with it! Now that the celebrations have finally ended and as life gets back to normal, I have started catching up on all the blogs that I enjoy reading; and this is when I read – Fear Of Missing Out (FOMO) – on Shivya Nath's blog and I had to write about it. 
There was so much there that resonated with me  – with the kind of traveler I was and with the kind of traveler I am slowly evolving into. I say slowly because I still do suffer from the syndrome of 'fear of missing out' or the fear of going to a place and not seeing and doing all the must sees and dos. Honestly I can't imagine going to New York and not seeing the Empire State Building, as passé as it may sound. 
I do enjoy a variety of things like visiting museums, trying local food, getting a glimpse into local culture, art, history, the outdoors etc. when I travel, which means that my itineraries are always packed to the brim. What that also means is that I don't get time to slow travel and enjoy the finer nuances that come with it. But on my last trip to Kutch, which was also my first solo trip I pushed a lot of my own boundaries. As I spent two days criss crossing Kutch visiting far flung villages, seeing beautiful crafts and meeting the most interesting people that I have ever come across, it struck me how little I actually could do, to genuinely enjoy what I was doing. We visited barely two villages and a couple of hamlets a day. Any more and I would have tipped over into the territory of a jaded traveller, just walking into a house, paying a cursory glance to the craft that the family was involved in and then walking out. I realized on my trip how lucky I was to have the luxury to do little and to enjoy it thoroughly. At most times real conversations started just as we were about to walk out of the door.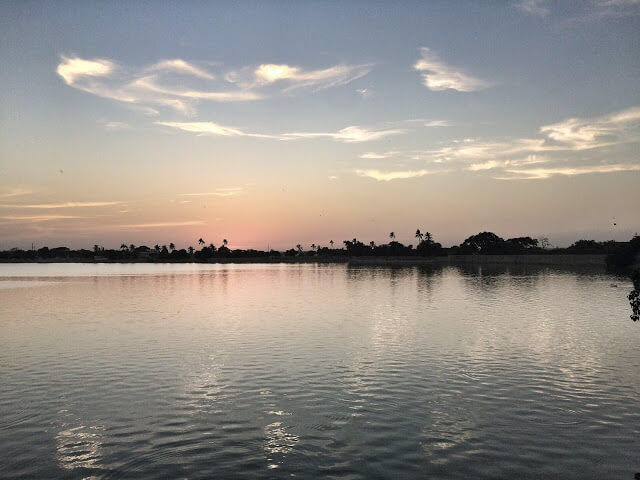 Sunset at Hamirsar Lake, Bhuj
I went to Kutch when the Rann-of-Kutch, the main natural attraction was submerged almost entirely under water. But my trip to Kutch was not to see the Rann, but to experience the magic of its crafts and its beautiful people. I am glad I went when I did, because there was no tourist or traveler in sight and the villagers welcomed me with arms wide open. 
I had time to squeeze in more than I did on my four day trip considering I was travelling alone, but I didn't and I am glad I didn't! I spent time walking around, chatting with locals and even spent one evening having dinner with my guide and his family under the moonlight and fairy lights in their little home garden. I came so close to opting out of this dinner because I wanted to do somethings in the city, but I am glad I just held myself back. That dinner was simple, beautiful and intimate. I left Kutch not just with memories but with real friends.
On a family trip in August this year we went to Sri Lanka. We planned to cover the Southern part of the country and as it ended up we saw a very small part of the very small island nation. We spent time in Ahungalla on the beach, and in Galle. We planned to spend a night in Galle and ended up staying two. 
Our last two days were spent in Colombo. Our aim in Colombo was to shop for our new home and Colombo is a mecca for ceramic aficionados. We were keen to try out Air BnB especially because what we were looking for was a centrally located, good room to stay in, with no other amenities. As luck would have it we got a room in Tilak Samarawickrema's home, who is a talented architect and designer. His home that showcases most of his work is an experience it itself. Not only did we come back from Colombo with a bag full of ceramics but also with one of Tilak's gorgeous tapestries that draws from Sri Lanka's rich handicraft history. We saw very little of the city, spending most of our time shopping and really relaxing in its beautiful cafes and restaurants, and also interacting with Tilak and his lovely wife. Never mind what we missed out on in Colombo, we did exactly what we wanted and that's what really counts. It was then that we truly experienced JOMO or the joy of missing out!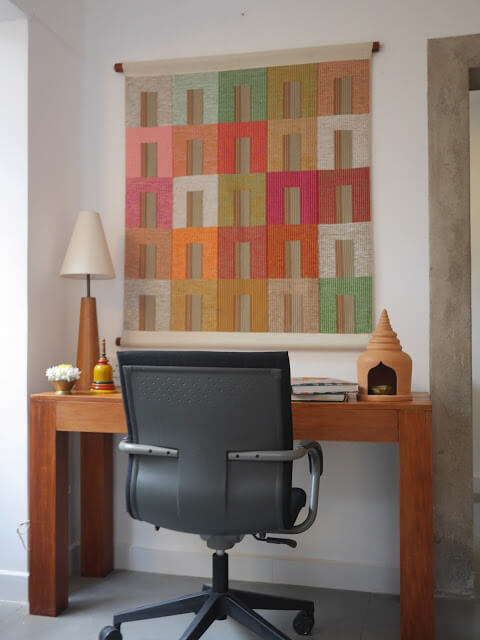 Tilak's beautiful tapestries
Have you experienced either FOMO or JOMO or both?