I am a momo (a popular local dish very similar to a dumpling) lover and couldn't wait to get to Sikkim to feast on it to my heart's content. While you do find momos in Bombay, they are mostly available at food courts in malls, standalone carts in some parts of the city or in a few Oriental restaurants.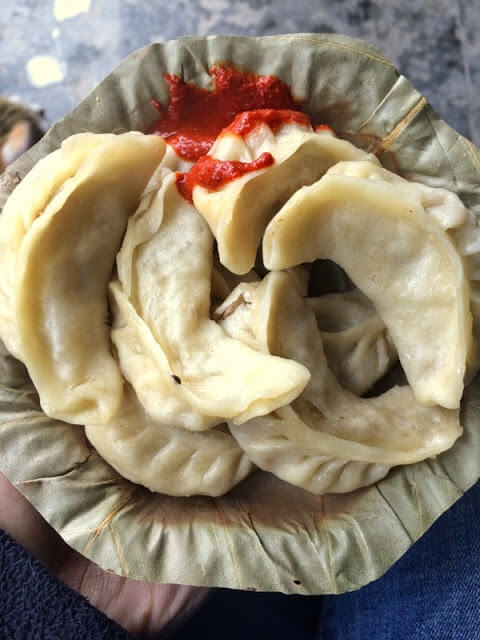 In Sikkim if you throw a stone out of your window its very likely to fall into someone's plate of momos! The small eateries that you drive past from Bagdogra on the way to Gangtok serve momos along with standard fare of roti, dal (lentils) and subzi (vegetables). In the city, almost every small restaurant serves momos. Even Maharaja – a vegetarian eatery on M G Marg, serves momos and chowmein (noodles) along with samosas, kachoris, parathas and a variety of Indian sweets. The samosas were served with a aloo subzi (potato curry) which made for an interesting combination.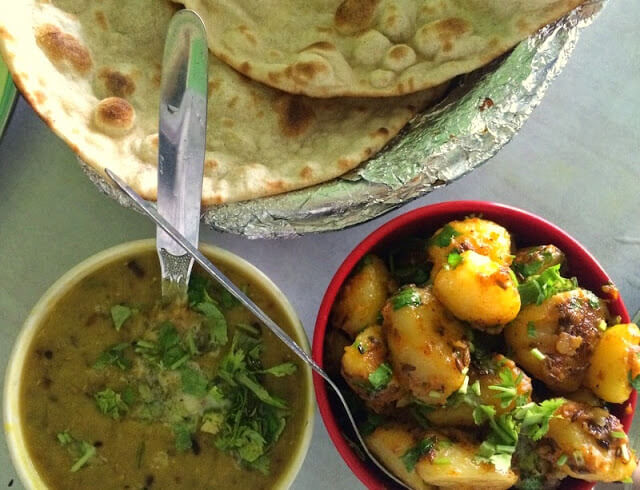 Our simple but hearty lunch en route to Gangtok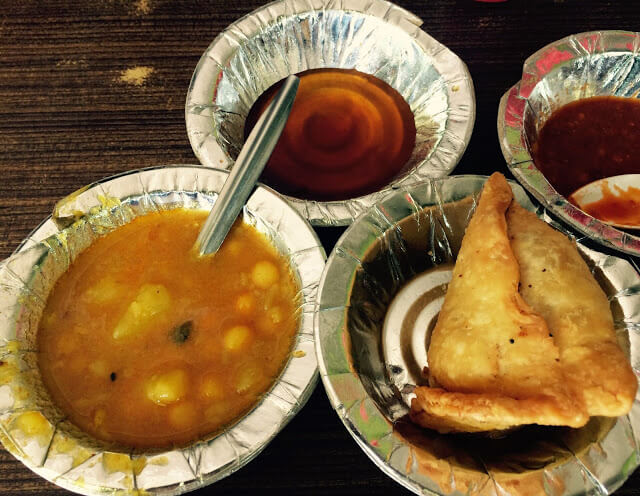 Samosas with subzi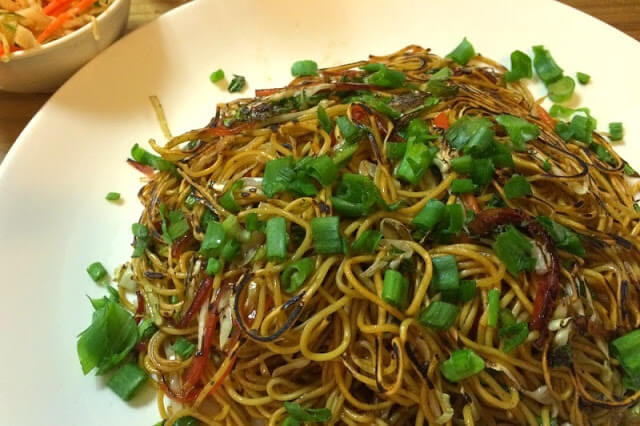 Chowmein – another local favourite
A local favorite momos require only a few ingredients but a lot of skill goes into making them perfect. For one vegetarian momos primarily have cabbage, which needs to be chopped very finely. On our way back from Rumtek Monastery we stopped at a small makeshift tea stall for a cup of chai (tea). Along with chai, Maggi (packaged instant noodles), pakodas and momos were available. The owner of the stall along with her helpers were busy getting a new batch of momos ready and we got to see first hand the way they chopped the cabbage and it definitely looked like it needed a lot of practice to get it right!
Influences of neighboring state West Bengal are evident as jhaal muri (a tangy snack made of puffed rice, peanuts and a variety of other ingredients) is popular with the locals in Sikkim too.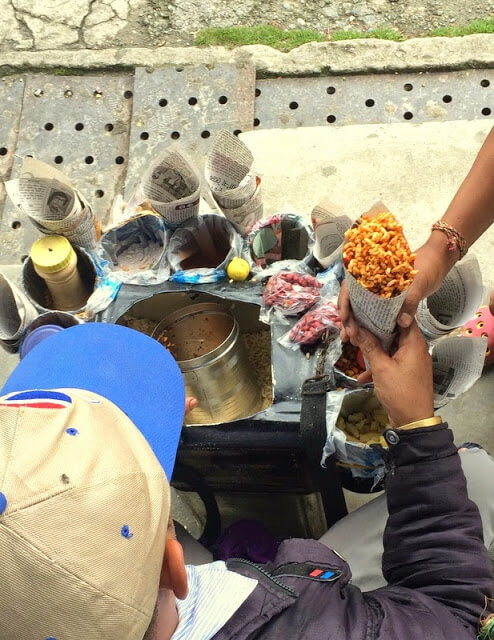 A Jhaal Muri vendor does brisk business outside Rumtek Monastery
Gangtok has some fantastic cafes that offer good food with spectacular views. In Baker's Cafe on M G Marg you can either choose to sit overlooking the street watching locals and tourists walk about or sit on the other side and enjoy your hot chai as the clouds shroud the mountains. The Coffee Shop located further down M G Marg is a great place to sit and observe the locals as they unwind with friends and family. I enjoyed the mixed nuts and yak butter muffins available there. Yak butter has a very distinct flavor.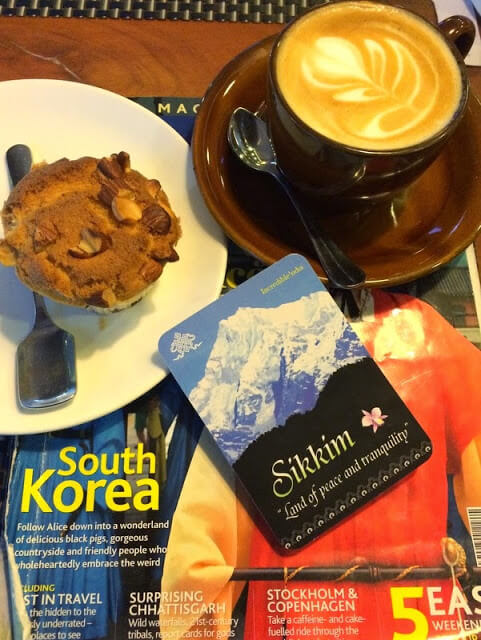 Coffee with mixed nuts and yak butter muffin at the Coffee Shop
But the real treasure is Bookman's Cafe. Located in the Development Area, which is a 10 minute walk from M G Marg, the cafe cum bookshop is a great place to unwind in the city. Their collection of books, particularly children's books was enviable.
Sikkim is primarily a meat eating state but I was still hoping to find local food besides momos and chowmein that was vegetarian. The highlight of my trip was the early dinner that I enjoyed at 9'INE Native. Located opposite the Coffee Shop, it took me a while to locate this restaurant and when I finally did, it was shut. The next day I dropped by just before lunch and met the very friendly owner who promised to wait for me that evening. He asked me to come by 5:30 in the evening as by then they are pretty much sold out. I was very unsure about ordering a full vegetarian set meal and having dinner that early, but luckily the meal didn't disappoint one bit! The food was different, interesting and delicious.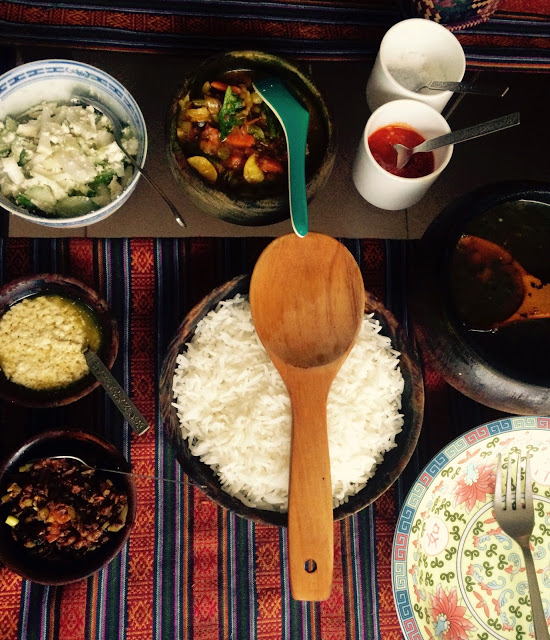 I ordered a Sikkimese native meal that comprised of steamed rice, Gundruk, Kinema, MaaChoo, a vegetable curry and salad. I am honestly quite an apprehensive vegetarian, especially when I am trying food that's traditionally not vegetarian. My first course was Gundruk – a soup made of fermented leaves of mustard, radish and cauliflower. The first sip that laid the foundation for the whole meal was fantastic. The clear soup with fermented leaves and chunks of tomato had a sharp, sour taste and was perfect for the weather.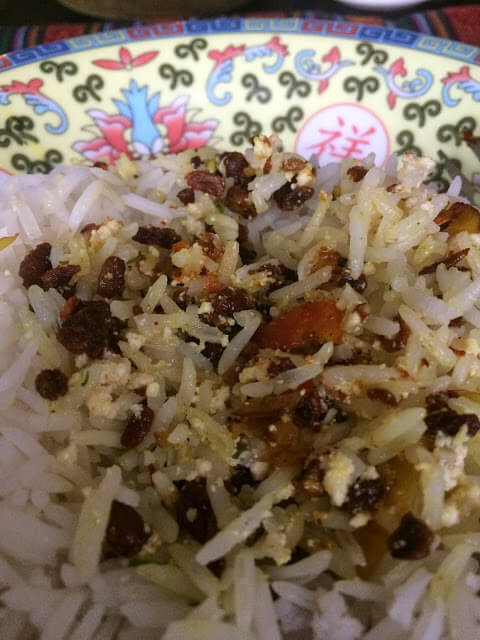 Next I was advised to serve myself some rice and pour onto it a little helping MaaChoo or cottage cheese cooked with butter and eggs. Once the butter mixture melted, I added some Kinema, fermented soybean to it. The crunchy pieces of soybean had a lovely smoked flavor to it. Tsherin the owner insisted that I try some Gundruk with rice and assured me that it would be completely different from just having the soup as is.