Tucked into one of the streets of the atmospheric Ballard Estate business district of Mumbai, Britannia & Co is everything vintage and charming. As expected there was a crowd outside the restaurant on a Saturday afternoon while the rest of Ballard Estate wore a desolate look.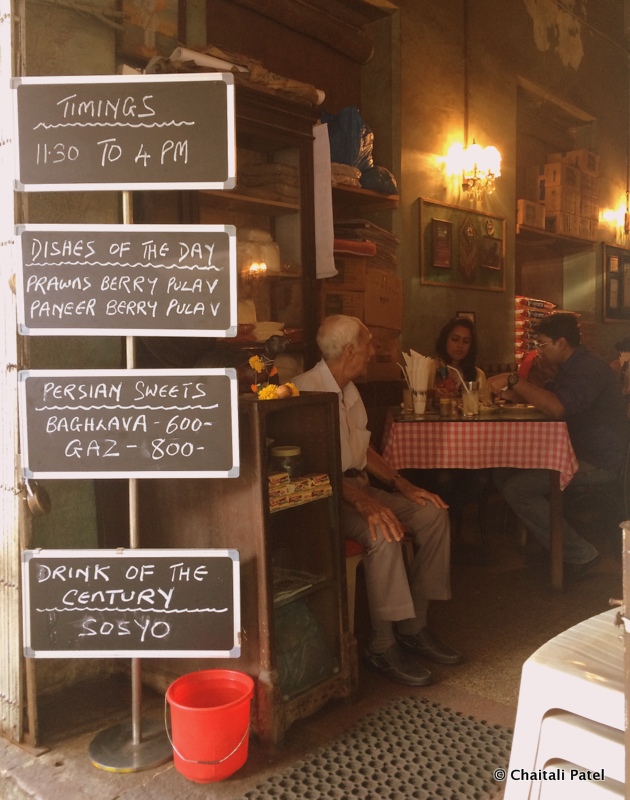 Blackboard sign boards displaying specials for the day
As I poked my head in to put my name down for a table, from behind the cash counter Mr. Kohinoor shouted out to me asking me to catch hold of his son who is in charge of seating people. The metal porch under which we wait, bears the name of the restaurant and its symbol, a cock which was a family pet. Handwritten chalkboards display the day's specialities and bright white metal boards proudly proclaim that the cafe serves unique drinks and Irani and Parsi cuisine.
At the back on the restaurant, the kitchen works at a fervent pace sending out plate after plate of the fragrant and very delicious berry pulao – the signature dish of the restaurant that was introduced on the menu by Bachan Kohinoor.
Once inside, it was as if we had stepped into a time capsule. Except for the people eating around us, practically everything in the restaurant was exactly how it was 94 years back when it first started. As we poured over the menu, Boman Kohinoor the current proprietor comes up to our table. In impeccable English he asked us if we had ordered our meal and if everything was Ok! Then he returned to his chair by the wooden staircase and started to make notes in a little notebook that he held in his hand. When he was done writing whatever it was that he was writing, he put his head down and napped.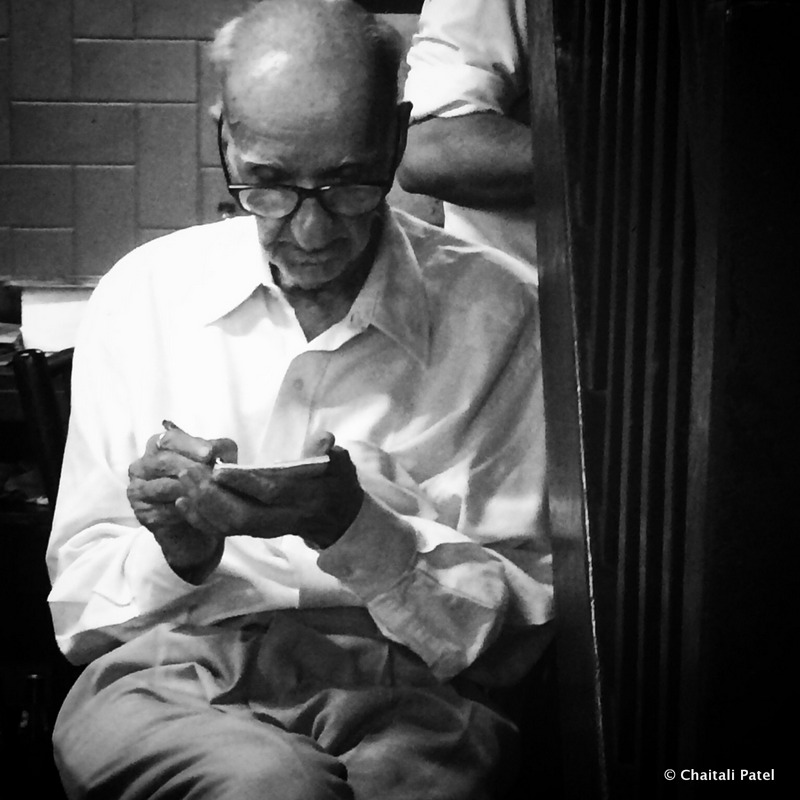 Boman Kohinoor 
It was his grandson who had helped us with the table and who very proudly told us that the restaurant was as old as his grandfather. Like many Iranis who had made Bombay their home and started cafes and restaurants in the early 1900s, Rashid Kohinoor too set up Britannia in 1923, the year his son Boman was born. Catering to Britishers at the time, the menu featured many continental dishes, which over the years have almost completely vanished from the menu.
While the menu has evolved to suit the Indian palate, luckily the ambience has not changed over the years. Green checked table cloths, peeling paint, large flags of Britain and India, old whirring fans and furniture from Poland are still in use as there were almost a century ago. A cutout of Prince William and his wife Catherine smiles up from the 1st floor, adding to the quirkiness of the place.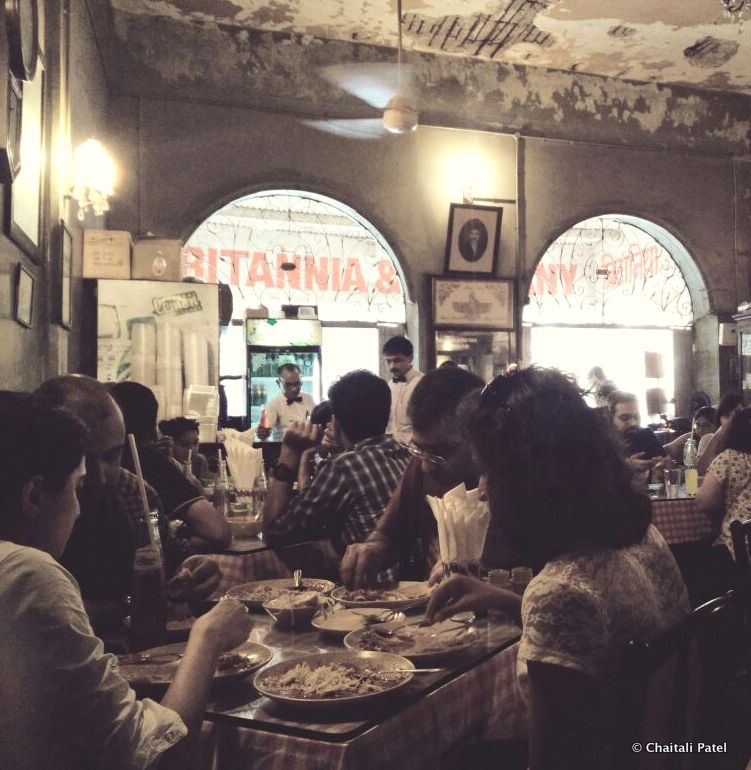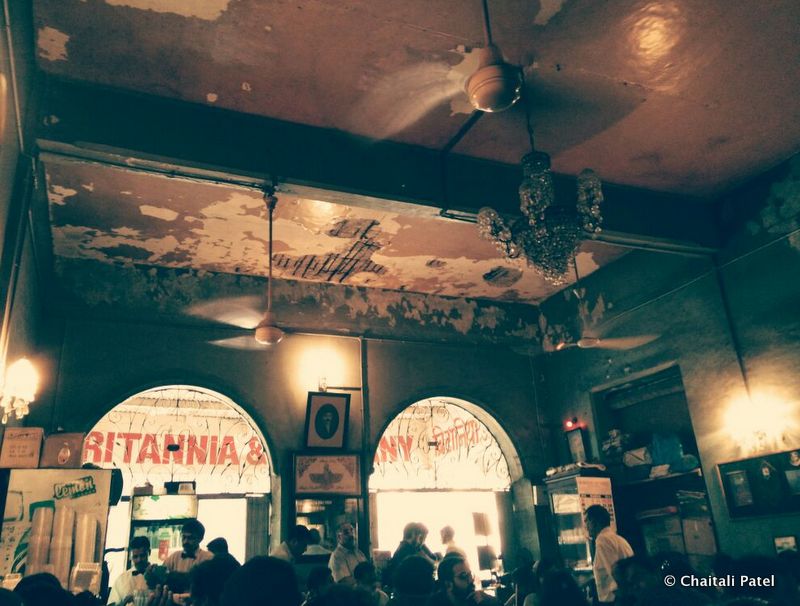 Bachan Kohinoor, Boman's Parsi wife introduced specialities like dhansak and patra ni machi to the menu. She also introduced the iconic berry pulao which till date is made with berries that are imported from Iran. The fragrant rice, served over a spicy gravy combined with the tart berries and crispy fried onions sprinkled on top make for a sumptuous mouthful.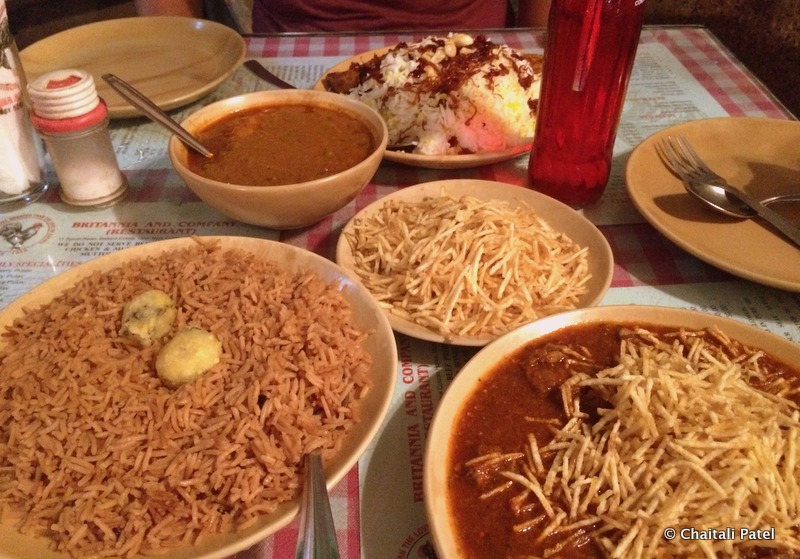 Salli Boti, Vegetable Dhansak, Mutton Berry Pulao
Being a vegetarian, I was delighted to find that the dhansak and berry pulao both originally meat based dishes were available in a vegetarian option. We ended our meal with a creamy caramel custard which was easily the best I have ever had.
It was a lovely afternoon meal and one that we will always remember. But more than the food, it is the place and what it captures that will stay with me forever. There are but a few handful places in Mumbai, that will let you slip into the Bombay of many decades ago.
On a 99 year lease that finishes in 2023, if you haven't already been there, then go fast to relive a bit of history that's so immaculately preserved.
***
Read about another Parsi restaurant Jimmy Boy
here
.
***
Britannia & Co, Wakefield House, 11 Sprott Road, 16 Ballard Estate, Fort, Mumbai
Phone: +91 22 22615264, 30225264
Timings: Monday to Saturday from 11:30 a.m. to 4:30 p.m.