If you are a vegetarian you know how hard it is to find good vegetarian food when you travel! A lot of times I have missed out on local delicacies because a vegetarian version just isn't available and sometimes rightfully so. In Morocco I ordered a pigeon pastilla and just nibbled on the pastry because I was so desperate to try it!
So when Tourism Malaysia invited me to attend the Chinese New Year Open House 2015 last month in Malaysia, I was hoping that I get to sample at least some local vegetarian dishes on my trip. I had not one, but an entire feast – about 15 dishes all vegetarian and beautifully served.
After having witnessed the Chinese New Year Open House celebrations in Teluk Intan (which warrants a whole post to itself) we were invited to attend a sit down dinner. As I was travelling with 2 other vegetarians we were seated at an all vegetarian table. The 10 seater table only had the 3 of us. The entire experience was mind blowing. I did feel a bit sad that they made all that effort and cooked all that food for just 3 people.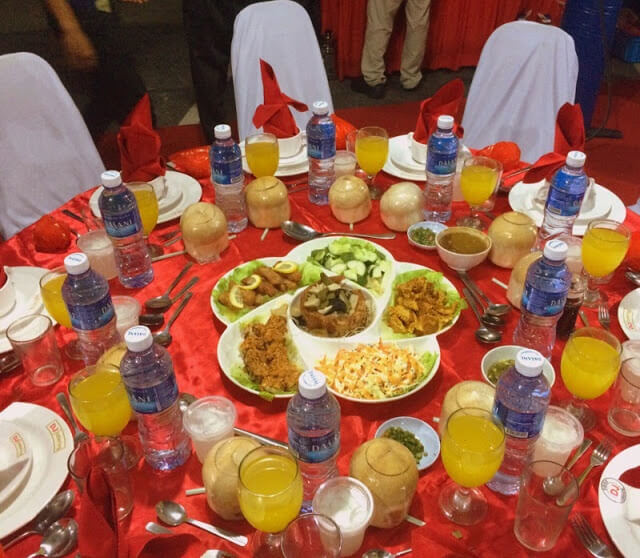 Chinese New Year is one of the most important Chinese festivals and is celebrated with great gusto in Mainland China and neighboring countries and regions that have a sizable Chinese population like Macau, Hong Kong, Indonesia, Malaysia, Thailand, Taiwan, Singapore and the Philippines. The first day of the Lunar month marks the beginning of the festival and continues over the next 15 days. Each day has special significance and specific customs that need to be followed. The festivities involve visiting family and friends, feasting and giving gifts. The first day or Yuan Dan that signifies a new start is a day when the senior most members of the family are visited.
It is on this day that many abstain from eating meat – as it is part of ancient Buddhist culture and is believed to cleanse one's system and enhance longevity. Jai or Buddha's Delight is a dish that is made on the first day. Traditionally 18 different ingredients are used to make this dish as the Chinese consider 18 to be lucky, signifying wealth and prosperity. Each of the 18 ingredients holds a special meaning and significance.
At the Chinese New Year Open House dinner, we were served a dinner that had a soup that resembled the sweet corn soup that's commonly found across Chinese restaurants in India, minus the corn and instead with shredded carrot, cabbage and something that looked like Chicken. All of us promptly sent it back. We were getting anxious to see if there would be anything vegetarian for us at all. Then they brought us a colorful looking fried rice that had pieces of what looked like ham. We were just going to refuse being served when one of the people serving us managed to convince us that indeed everything we would be served is vegetarian and just looks like mock meat. Plates full of chicken, fish and prawns arrived, all made of soy, tofu or bean curd and mushrooms. These dishes don't taste like meat, but just resemble it in shape and texture. I must say they did such a splendid job that its almost hard to tell the difference going by just the appearance of dishes!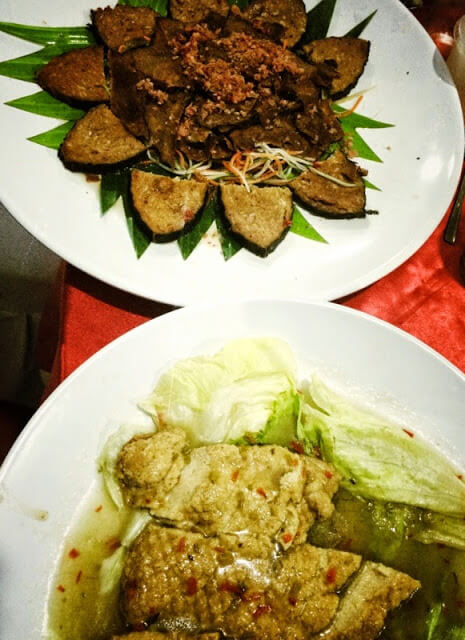 Fish and Chicken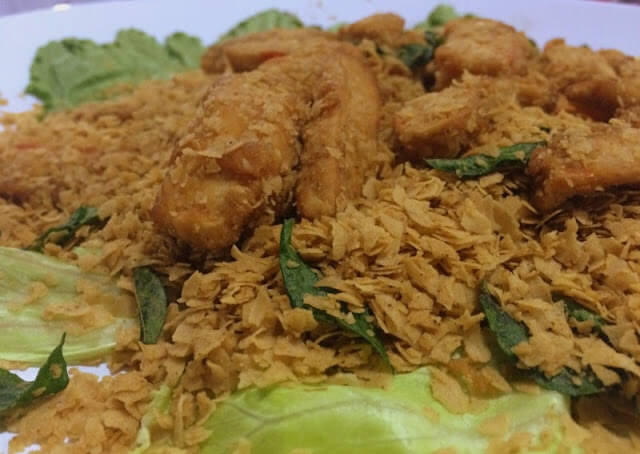 Crispy Strips of Shrimp
I then reached out to this extremely colorful and interesting looking dish at the center of the table that had 6 different dishes including mock fish balls, ham, a salad, chopped cucumber and more.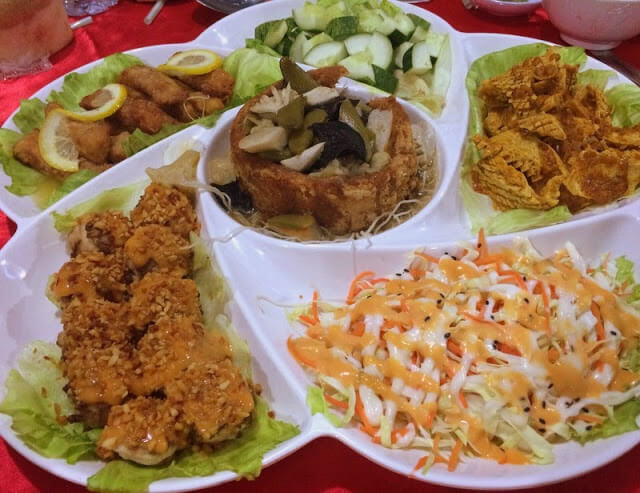 The whole dinner was a completely new experience for me and I enjoyed it thoroughly. It definitely was a highlight of my trip! Even if I managed to find a vegetarian Chinese restaurant I would have ordered maybe 3 to 4 dishes but never such a variety.
Have you ever had a traditional Chinese vegetarian meal?
***
I was invited by Tourism Malaysia to attend the Chinese New Year Open House Celebrations 2015 held in February this year. The dinner was part of this celebration.