One of the most fun things we have done was to check into a hotel in the very city we live in! Off course we didn't check into a hotel down our road – thankfully Mumbai is large enough for you to go to a part that feels completely different from the one you live in. Abode – Mumbai's 1st boutique hotel has been on my radar for a while. Ever since I saw photos of the hotel housed in a building built in 1910 it has stayed with me. The weekend post Diwali seemed to be the perfect empty weekend to just head out and explore a part of Mumbai that we hardly get to see otherwise. For my daughter it was practically her first time that side of town, and boy did she love it!
By the time we got to Colaba, the lanes around were already teeming with locals headed towards Mumbai's iconic Gateway of India. A neon sign that had Rudyard Kipling's famous words – "If you can keep your wits about you while all others are losing theirs the world is yours" – is the first sign of welcome in the otherwise nondescript entrance. But as we walked a little further and turned a right corner, we were staring up broad wooden stairs that climbed upwards and immediately we felt transported to another era. My childhood home was a British bungalow that my grandfather bought – tall ceilings, verandahs, wooden beams, mosaic floors and vintage switches hold a special place in my heart.
The best thing about Abode, apart from its fantastic location and very friendly staff is the careful attention to detail. Nothing is ordinary, everything is bound to stir your interest, to make you sit up and take notice. A beautiful and vibrant Goddess of Mumbadevi, painted by local truck painters, dominates the little shrine outside the entrance of the hotel. (Truck art is a fascinating art form found widely in India.)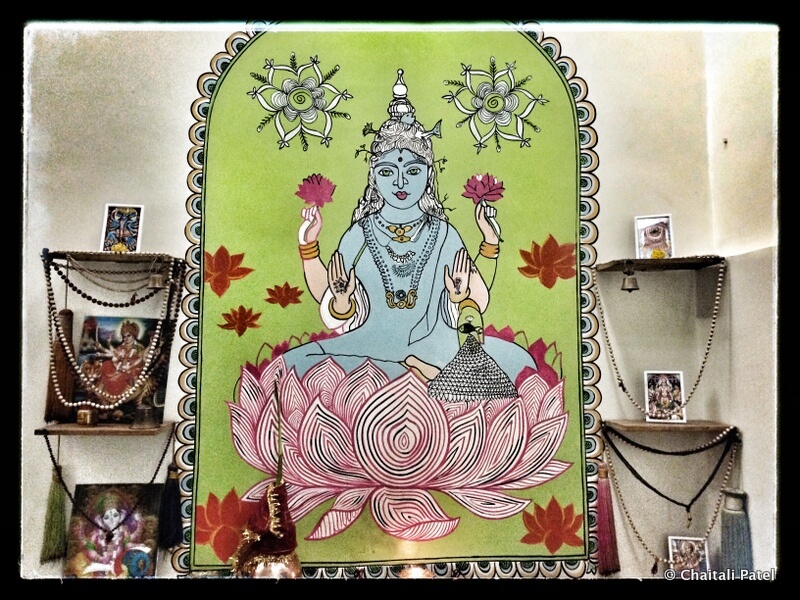 The reception area is really the heart of this boutique hotel. It serves as the breakfast area, a place where you can sit and pour over books or have long conversations over steaming cups of masala chai or filter coffee, an area where you check in and out, shop for souvenirs and more. Its a visual delight and at first it might seem like its a lot, but it all comes together beautifully.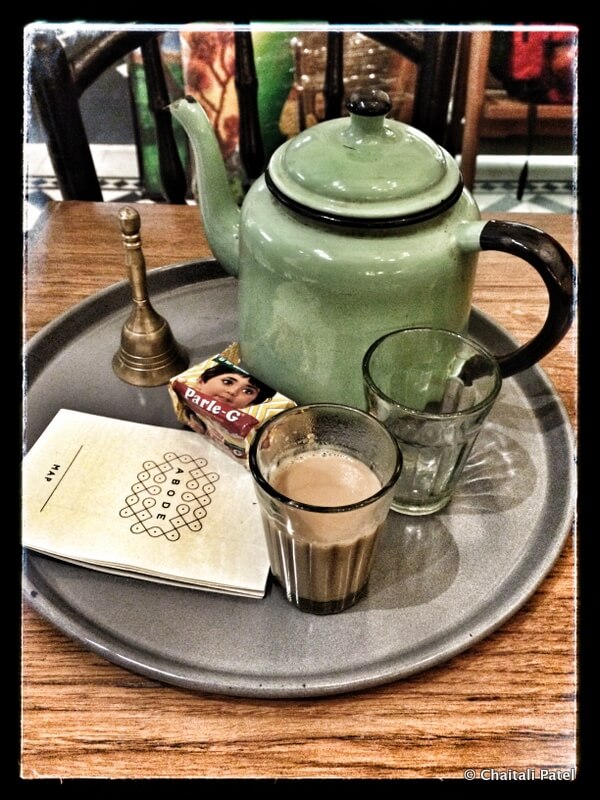 The hotel and its environs provide such a welcome relief from the unimaginable crowds that throng Colaba, particularly the Gateway of India.
Each of the 20 rooms of the hotel have been beautifully done, using reclaimed wood, refurbished pieces of furniture, handmade tiles and gorgeous photos of the maximum city. Our room was impeccably clean and it had everything that we needed for a comfortable stay, like soft clean linen, a safe, a table and chair, a space to hang stuff and a TV that we never switched on. Abode is a boutique hotel and not a budget hotel. However they do have budget rooms where occupants have to share toilets.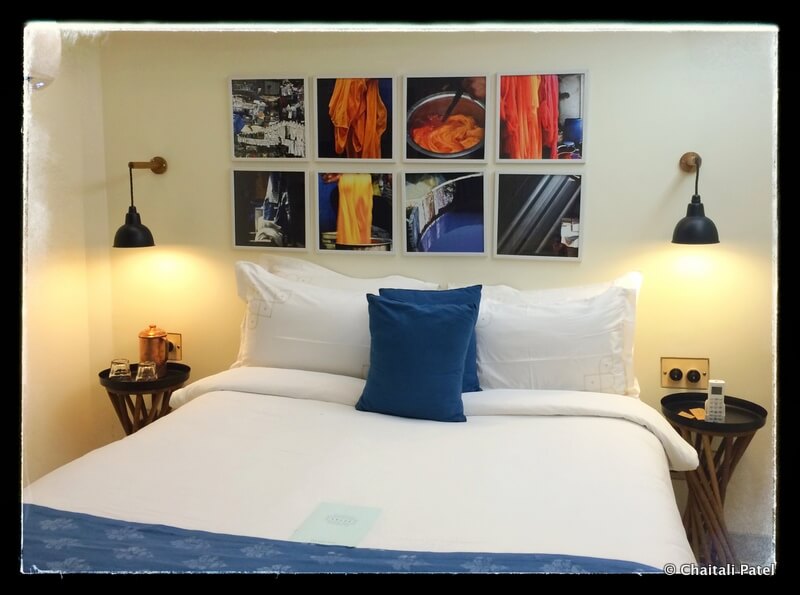 Here's a bit about the design aspect from the hotel's website: Architect & Interior Designer Sian Pascale for Young Citizens combined the feel of luxury, the charm of a boutique hotel and a unique Bombay inspiration to source and create the furniture of the hotel. 20th Century colonial and art deco pieces have been sourced from Bombay's second hand markets and lovingly restored for the hotel. Custom-built furniture designed specifically for Abode includes bed side tables made from chaat stands and library shelving inspired by Bombay roadside bookstores. Reclaimed Burma teak, salvaged from demolished houses has been used as flooring. Bedroom light fittings have been created using hand-thrown ceramic lampshades, turned hardwood lamp holders and neon. Fabrics used for soft furnishings have been sourced from vintage saris, local markets or handwoven by the charitable organization WomenWeave.
To read more about the entire design process and to delve into the designer's mind click here.
When we had had our fill of Abode, we stepped out walked around Horniman Circle, sat on the steps of the Asiatic library and watched life go by. Having driven by Flora Fountain at least a hundred times, it was for the first time that we actually stood right in front of it and took it all in. We also walked down leafy Kala Ghoda, popped into one of the many fabulous exhibitions that you find around and shopped to our heart's content on Colaba Causeway. The highlight for my daughter was a 45 minute ferry ride from the Gateway of India. It's a mad jostle to get into the ferry and out, but the stunning views of the Gateway and the Taj, and the hundreds of boats and ships around, as well as Navy vessels in the distance makes it worth it! Colaba is a vibrant corner of Mumbai, home to some of the city's most iconic buildings that have been witness to landmark events. It's noisy, crowded, buzzing with life and a must do if you haven't been there already. It's a perfection reflection of the city that was and that it is today!
***
Getting there: Colaba is at one end of Mumbai. However, it is easy to find taxis to take you there from the airport. Getting a pre paid taxi from one of the main authorized counters within or outside the airport will mean that you pay standard fare and nothing more. Abode is located in the lane after Regal cinema that goes to the Gateway of India. It's the same lane, at the start of which the famous Cafe Mondegar is located at.
Food: Breakfast is part of the room rate and consists of basic fare. A couple of local dishes find their place, amongst freshly baked spread, seasonal fruits and juices, milk and eggs to order. I tried the Indian style bhurji (scrambled eggs) which didn't look very exciting, but it was the best I have ever had! Apart from this, cafe style food can be ordered throughout the day. The hotel allows guests to pack food and drinks, and you can have these at the reception area or in your room.
Spa: The hotel has a spa room where they call therapists according to the services that you require. In addition the hotel also organizes fitness and yoga sessions on request.
Things to do: Colaba and its surroundings will spoil you for choice of things to do. The hotel arranges walking tours and other activities on request.