There are a 101 things that you can do in Kuala Lumpur as listed out by
TimeOut KL
, but here are 5 things that I recommend you do if you are traveling with children.
1. Bird Park, Kuala Lumpur – Located in the heart of the city, the KL Bird Park is the world's largest free-flight aviary. What that means is once you enter the gates, you enter a space that has a large outer net within which birds are free to roam. The best part of it is that the space is so big you feel like there is no net covering it. Opened in 1991, the park is spread over 21 acres and is divided into 4 zones. With 3000 birds of 200 local and foreign bird species, be ready to spend a couple of hours to take it all in. Both adults and children will love this place. It was fantastic walking around with peacocks, parrots, lovebirds and many, many other birds.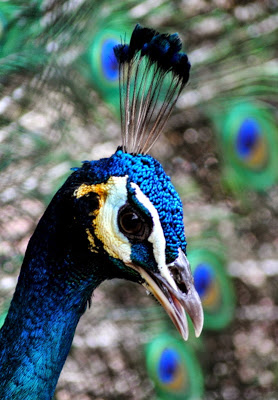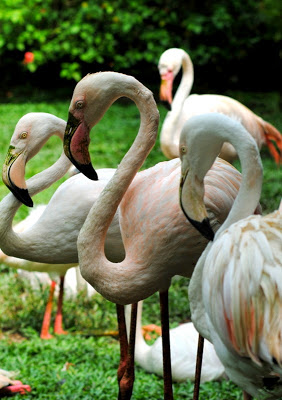 Our experience: We were visiting Malaysia in December and even then it was very hot, so dress accordingly. Snacks and water are available at regular intervals inside, but even then stock up on enough water to deal with the sapping heat and humidity. We had a baby stroller with us and though most areas of the park have wide pathways, there were some instances when we had to carry the stroller across a bridge or over a flight of stairs. If you are comfortable using a sling, you could think of taking that along.
2. Aquaria KLCC – Walking distance from the Petronas Towers and bang in the middle of all the action is Aquaria KLCC. Located at the concourse level of the Kuala Lumpur Convention Center, this oceanarium showcases over 5000 different exhibits of aquatic and land-bound creatures. The highlight for me was the 90-meter transparent tunnel with a moving walkway. It was amazing to see giant stingrays, sharks and shoals of other fish swim all around us. There are interactive feeding sessions scheduled throughout the day and for the more adventurous, you can dive or sleep with the sharks!
Our experience
: Apart from the fact that we loved it, we were also a bit overwhelmed. Before your visit, it might be a good idea to look at everything on offer (
visit the Aquaria KLCC website here
) and choose what you want to experience and then plan your visit accordingly. Also, carry all the food and water you need as nothing is sold inside. Strollers are allowed but be ready to deal with massive crowds down narrow pathways.
Practical information: The aquarium is open daily from 10:30 a.m. to 8:00 p.m. Last admission is at 7 p.m. You would need at least 2-3 hours to do justice to the place so it might be best you get there no later than 4:00 p.m.
3. Go up the Petronas Towers – Tall, really tall buildings manage to fill both adults and children with awe and the Petronas Towers because of its sheer magnificence does this perfectly. Different from the usual activities you would undertake with children, take them up the towers just to see the wonder in their eyes as they walk on the hanging skybridge connecting the two towers.
Practical information
: Getting tickets to go up the towers is a task in itself. Read about it
here
. Feed your children before your visit, as you are not allowed to carry any food or water during the visit.
4. KLCC Park – Sprawled over 50 acres, the KLCC Park has enough on offer for both adults and children. The park is a great place to spend the entire day, with a 2 acre children's playground, wading pool, jogging track and more. For some retail therapy, hop into Suria KLCC, that's located at the fringe of the park. As the sun goes down, families, couples, shoppers and others gather outside the steps of Suria KLCC to watch the fountain show. With the sparkling Petronas Towers as the background, the sight is a visual delight.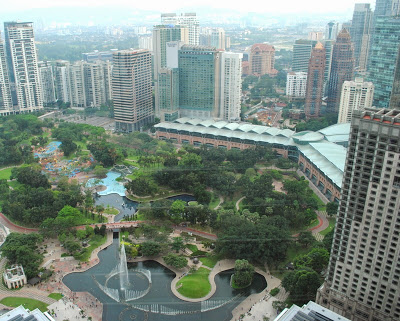 5. Zoo Negara – Though not as popular as the Aquaria KLCC or the Bird Park, Zoo Negara is a marvelous place to spend the day with children. Located 5km away from the city of Kuala Lumpur, and spread over 110 acres, the zoo has all the favorites like lions, tigers, zebras, giraffes, hippos and many more. New animals are welcomed into the family on an ongoing basis.
So if you are traveling to Kuala Lumpur with children take my list and make the most of your trip!